Will the CW Update the Dominators, DC's Racist Asian Caricatures?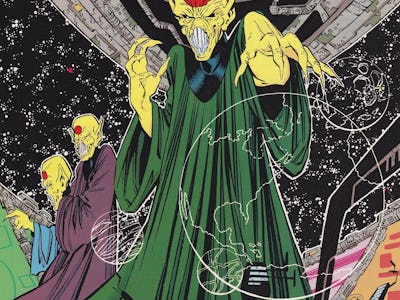 DC Comics
With a four-way DC TV crossover set to happen on the CW this fall, there had to be a force powerful enough to unite the heroes from Arrow, The Flash, Supergirl, and Legends of Tomorrow. That force will be the Dominators, an alien race hellbent on harvesting metahumans to breed their own army.
Arrow and Legends of Tomorrow showrunner Marc Guggenheim said the crossover will mimic the late-'80s crossover Invasion! co-written by Bill Mantlo, a "personal hero" of Guggenheim's.
The announcement that the Dominators will be part of the crossover came Thursday afternoon on the DC on The CW Facebook page. Shortly afterwards, Arrow and Legends of Tomorrow producer Marc Guggenheim went on Twitter saying Bill Mantlo was one of his heroes.
In 1988, DC published the crossover Invasion! co-written by Keith Giffen and Bill Mantlo. Invasion! was Mantlo's first DC gig after working for Marvel, where he created Rocket Raccoon. Invasion! will be the inspiration, if not the actual plot for the groundbreaking four-series DC crossover, which Guggenheim wrote the story and co-wrote the teleplay of the Legends of Tomorrow episode portion.
In Invasion! the Dominators — an advanced, hierarchal society full of long-toothed beings with red circles on their foreheads — arrive on Earth to harvest metahumans for their own army. The Dominators fooled other races into joining their Alliance, including Khunds, Durlans, Thanagarians (the race Hawkgirl and Hawkman come from), and Daxamites (the Kryptonian colonists Mon-El descends from). It just so happens that Mon-El will also debut on Supergirl this fall.
The real challenge the DC shows have now isn't telling a single story over four shows, but the Dominators themselves. The Dominators, a technologically superior race with a rigid society and red circles, reek of old-timey racism. Whether they were parodies of 1940s "yellow peril" or not — they debuted in Adventure Comics #361 in 1967, 21 years after Japanese-American internment — they will have to be rewritten heavily, because that just doesn't fly anymore.
The new DC TV season begins when The Flash airs October 4 on the CW.