Samuel L. Jackson Has Finished the 'Split' Sequel, But It's Not Over Yet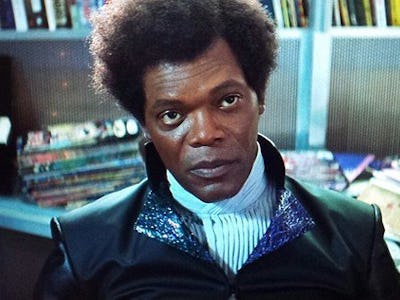 Touchstone Pictures
The villain of M. Night Shyamalan's upcoming Glass, the joint sequel to 2000's Unbreakable and 2016's Split, is on the loose. Or, rather, Mr. Glass actor Samuel L. Jackson has finished his time on set
Glass director Shyamalan tweeted the news on Saturday, announcing that Jackson had finished his last shot on Friday.
"Had to fight back tears," Shyamalan wrote. "There are more than movies to me."
Glass, which will follow domestic terrorist and self-made supervillain Mr. Glass on an unknown journey 17 years after fans first met him onscreen, still has one week of shooting left to go, according to Shyamalan. It's important to keep in mind that movies are rarely shot in chronological order, so Jackson's early departure from the set doesn't automatically mean Glass will meet some sort of grisly fate while the other characters continue on.
Jackson will be joined by Bruce Willis's David Dunn and James McAvoy's multi-faceted Split character Kevin Crumb in Glass, fully rounding out Shyamalan's Eastrail 177 trilogy.
Little else is known about the actual plot of the movie, though there have been a couple of sweet set photos to set the internet abuzz over a year ahead of the film's premiere.
The first big on-set photo was of Jackson with wild gray hair in his full Prince-esque getup and in his usual wheelchair. His go-to color, a deep, royal purple, is a color commonly associated with villains in movies and comic books, so it makes a lot of sense in conjunction with Glass's comics background.
The other series of photos depict Willis battling McAvoy, a fight some fans have figured will be spurred on by Mr. Glass. These photos seem like they could indicate that Glass will no longer be confined to an institution for the "criminally insane" in the film and that he'll be at large, looking to cause a few more disasters.
Glass is expected to premiere in theaters on January 18, 2019.