First Pictures of Samuel L. Jackson's Mr. Glass in 'Split' Sequel Emerge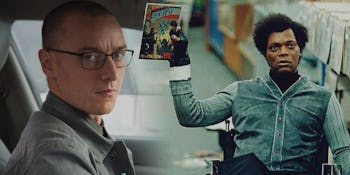 The biggest twist in M. Night Shyamalan's Split was the reveal that the film was actually a stealth sequel to the director's acclaimed 2000 film Unbreakable. The stars of both films, including Bruce Willis and James McAvoy, are currently shooting a joint sequel, Glass, and now the first pictures of Samuel L. Jackson as the villain have hit the web.
The paparazzi pictures, which you can see here, show Jackson's character, in a wheelchair as he was in the original film, looking quite a bit older. After all, it's been 17 years since the movie came out. Jackson's glass sports wild-looking grey hair and a purple, metallic jacket. There's almost a Prince vibe, to be honest.
It's worth noting that Purple is a common color for supervillains, which the extremely fragile Glass fancies himself as.
The exact plot of Glass, which is set for a 2019 release, hasn't been fully revealed yet. McAvoy, Willis, and Jackson are all confirmed to return. Unbreakable stars Spencer Treat Clark and Charlayne Woodard, who played Willis's son and Jackson's mother, respectively, will return as well.
McAvoy appears to be having fun on the set. He posted a picture of himself as one of his many Split "characters" on Instragram on Monday. "I got a hair transplant," he joked.
Glass is set for a January 19, 2019 release date.