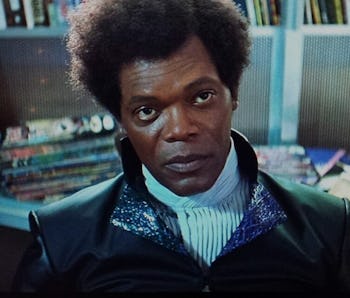 Entertainment
'Split' Sequel Starring Samuel L. Jackson as Mr. Glass Coming
M. Night Shyamalan has just announced a follow-up to his surprise supervillain movie, Split. Fans of Shyamalan's world of superpowered humans can look forward to the third installment in which James McAvoy's Horde, Bruce Willis's David Dunn, and Samuel L. Jackson's Mr. Glass will somehow collide together in one conflict. No plot details have been released, but a few things are clear.
On his Twitter account, Shyamalan says he "always" planned to see the Unbreakable characters meet again in a third film, so fans of the story will probably be able to look forward to more Easter eggs in Glass.
When we last left the characters in Split, Glass was still in prison, Dunn was watching the news in a diner, and The Horde had just sloughed off its Wendell identity, taking to the streets to prove to society that its multiple personalities made it "pure." No one knows how Mr. Glass feels about another supervillain in the world, but his actions in Unbreakable suggest he'll be pretty psyched. After all, Glass manipulated Dunn into acting as a superhero purely out of an interest in comic book-style conflicts.
Jason Blum, a long-time collaborator with Shyamalan famous for producing "micro-budget" hits like Split, Get Out, and the horror films he makes through Blumhouse Productions, will produce Glass.
Glass hits theaters on January 18, 2019.