Set Footage From 'Split' Sequel Shows James McAvoy Fighting Bruce Willis
The Horde and David Dunn are throwing down.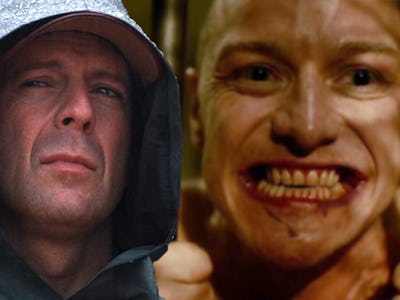 When Bruce Willis revealed himself at the end of Split, fans were excited for the actors Unbreakable character to face off with the Beast, the super-strong aspect of James McAvoy's cavalcade of personalities, the Horde. The two are going to fight in the upcoming sequel to both films, Glass, but early footage and photos taken on the set of the movie offer up a sneak preview.
The paparazzi footage and photographs, which you can see over at The Daily Mail's website,, show a shirtless McAvoy filming outside of a recently closed Allentown State Psychiatric Hospital in Allentown, Pennsylvania. The photos aren't anything special, as it's mostly just McAvoy standing around, but there's some exciting footage of him fighting with a man wearing the same raincoat that Bruce Willis wore in Unbreakable.
It's hard to tell from the footage if it's actually Willis or if it's his stunt double, but regardless of who is under the coat, we're looking at David Dunn versus the Beast.
Photographers also snapped pictures of Split star Anya Taylor-Joy at the set.
Last week, paparazzi photographers captured the first images of Unbreakable star Samuel L. Jackson reprising his role as Mr. Glass, the fragile, self-styled supervillain who lends his name to the third film in the series.
Glass is set for a January 19, 2019 release date.