Is Newt Scamander the Snape of His Time in 'Fantastic Beasts'?
Just how important is Leta Lestrange to Newt Scamander?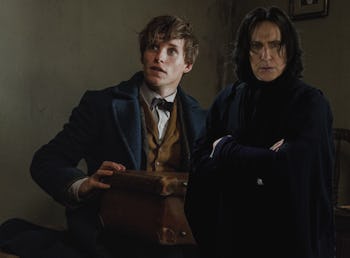 Warner Bros.
Severus Snape is a divisive figure in the Harry Potter fandom. But whether you think he's a misunderstood, tragic hero or an abusive, powerful figure who's held onto an old grudge for too long, Snape is undeniably important to J.K. Rowling's series. His obsession with Lily Potter (née Evans) is legendary and it was partly that obsession that drove him to torture Harry for so long.
Eddie Redmayne's Newt Scamander might be headed down a similar path in the upcoming Fantastic Beasts and Where to Find Them film. At least, he might be if he can't let go of the past.
News of the highly anticipated sequel, Fantastic Beasts: The Crimes of Grindelwald, broke on Thursday, introducing a slew of plot details and some of the new characters fans can look forward to meeting.
Leta Lestrange, first introduced as a picture in the first film and portrayed by Zoë Kravitz, was revealed to be engaged to Newt's brother, Theseus Scamander (Callum Turner). But, wait, wasn't Newt acting all lovesick over Leta in the first film? Why is Leta engaged to Newt's brother? This kind of love triangle seems awfully familiar.
In the first Fantastic Beasts, Newt carries a picture of Leta around with him in his magical suitcase; he stares at the picture forlornly a couple of times, and Queenie Goldstein even notes how "close" Newt and Leta were at school while reading Newt's mind. While saying this, Queenie looks a bit sad for Newt, her expression verging on pity before Newt grows defensive and snaps at her (in his own, gentle way).
Everything up until now has indicated that Newt is in love with Leta, or, at least, that he was in love with her at one point. The narrative is only further complicated by Theseus's involvement.
See, from the few details we know about Theseus — who's described as a powerful, commanding wizard and the head Auror for the British Ministry of Magic — it seems he's Newt's exact opposite. Newt, a gentle, nerdy scientist and author who took the blame for one of Leta's pranks at Hogwarts and got himself expelled, presumably doesn't get along with his war hero brother. And if Theseus is engaged to Newt's former girlfriend Leta, then that might add another layer of drama to their relationship.
But what if Newt never actually dated Lena? What if Newt is just weirdly obsessed with his childhood crush and can't move on?
We know Leta is a Lestrange (and that the Lestrange family is notoriously bad) but, given how different Newt and Theseus are, it seems unlikely she'd be interested in both of them. So, it would make more sense for Lena to have just been friends with Newt but to have fallen in love with Theseus. And if Theseus and Newt have never gotten along, then this situation is looking alarmingly familiar.
Leta is Lily, Theseus is James Potter, and Newt is Snape. Let's just hope Newt doesn't internalize his pain and act like a dick to children. Oh, and that Leta doesn't die a horrible death at the end of all this.
Fantastic Beasts: The Crimes of Grindelwald will premiere in theaters on November 16, 2018.