5 New, Magical Details About 'Fantastic Beasts: The Crimes of Grindelwald'
The sequel to 'Fantastic Beasts' teases drama and plenty of battles.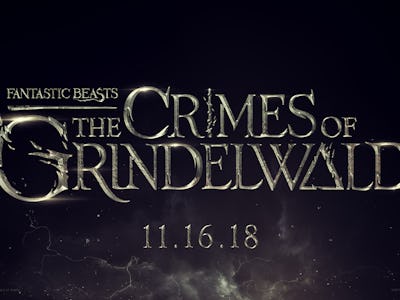 Warner Bros.
You might not have spent 12 years in Azkaban waiting for any new information on the upcoming Fantastic Beasts and Where to Find Them sequel, but it sure feels like it. The wait is over, though, as Warner Bros. dropped a treasure trove of new info on Thursday worthy of its own vault at Gringotts.
Not only did Harry Potter fans get a first-look cast photo and a full plot synopsis, but J.K. Rowling's Pottermore website also published a load of details about the film, its characters, and the impending drama fans can look forward to.
Some of your favorites from the first Fantastic Beasts film are returning, including Newt Scamander (Eddie Redmayne) and his New York friends, Tina (Katherine Waterston) and Queenie Goldstein (Alison Sudol), and everyone's favorite No-Maj, Jacob (Dan Fogler). Johnny Depp will return as the villainous Gellert Grindelwald, and Ezra Miller will reprise his role as Credence Barebone.
You can check them all out in the first official cast photo.
Here are five big things we learned about the next film in the world of Harry Potter.
5. We officially know the title and synopsis
The highly anticipated sequel to 2016's Fantastic Beasts and Where to Find Them is titled Fantastic Beasts: The Crimes of Grindelwald, implying that we might see Grindelwald's rise to power and Dumbledore's subsequent battle with him.
Here's the film's synopsis:
At the end of the first film, the powerful dark wizard Gellert Grindelwald (Depp) was captured by MACUSA (Magical Congress of the United States of America), with the help of Newt Scamander (Redmayne). But, making good on his threat, Grindelwald escaped custody and has set about gathering followers, most unsuspecting of his true agenda: to raise pure-blood wizards up to rule over all non-magical beings. In an effort to thwart Grindelwald's plans, Albus Dumbledore (Law) enlists his former student Newt Scamander, who agrees to help, unaware of the dangers that lie ahead. Lines are drawn as love and loyalty are tested, even among the truest friends and family, in an increasingly divided wizarding world.
4. Young Dumbledore is fierce
Young Albus Percival Wulfric Brian Dumbledore will be portrayed by Jude Law, which isn't new information — we've known this since April — but this is our first look at Law in character. Wreathed in a stylish blue corduroy trenchcoat, Dumbledore looks a bit defensive as he holds his wand. In fact, this is the first time we've seen Dumbledore with his original wand. Throughout the Harry Potter films, Dumbledore was the master of the Elder Wand.
This Dumbledore, sans Elder Wand, is a sprightly 46 years old in 1927, compared to the 100-something man Harry Potter fans got to know throughout the original series. He looks uncharacteristically severe — I don't detect a single "twinkle" in his blue eyes. The lack of a gleam is apt, though, as it seems Dumbledore will go up against his "friend turned adversary" Grindelwald in The Crimes of Grindelwald.
3. Newt Scamander's brother is a dick
Apparently, sweet Newt Scamander's (Eddie Redmayne) brother, Theseus (Callum Turner), doesn't have a problem being a dirty traitor. We learned about Newt's love for Leta Lestrange (Zoë Kravitz) in the first Fantastic Beasts film; he carried a picture of her around and hinted at something tragic. Many fans assumed it was Leta's connection to the Lestrange family (and, therefore, dark magic) that was their undoing. But it turns out that Leta is actually engaged to Theseus.
The new cast photo depicts Leta holding Theseus's hand and Theseus looking like a smug, well put-together professional. Theseus is also painfully different from his brother; he's the head of the Auror Office at the British Ministry of Magic and a war hero.
2. We'll see a new kind of blood curse
Claudia Kim's as-yet-unnamed character, seen in the cast photo draped over Ezra Miller's Credence Barebone, is the unfortunate carrier of a blood curse and is known as a "Maledictus." As Pottermore points out, a Maledictus is different from an Animagus, "as an Animagus can transform into an animal by choice." Apparently, a Maledictus is forced to transform into some sort of "beast," perhaps similar to a werewolf. We don't know yet what triggers a Maledictus to transform, but seeing as Kim's character seems to have a connection with Credence, the tortured and incredibly powerful Obscurial, it's probably not fun.
1. Grindelwald is definitely the master of the Elder Wand
Harry Potter fans learned that Dumbledore dueled Grindelwald and won mastery of the Elder Wand during the battle, which means Grindelwald was in possession of the Elder Wand's allegiance for a while. Grindelwald will work hard to divide the wizarding world and take control of the non-magic world, as well, and clearly, he'll have the Elder Wand at his side while doing it in The Crimes of Grindelwald.
The cast photo shows a smarmy but well-dressed Grindelwald (Depp) casually holding the Elder Wand between two fingers, a spell ready to emerge at any moment. He'll undoubtedly cause some damage in the film, but we'll have to wait to see just how much.
Fantastic Beasts: The Crimes of Grindelwald premieres in theaters on November 16, 2018.