'Fantastic Beasts 2' Reveals Cast Photo, Plot Synopsis, and Official Title
Does Grindelwald count as a "fantastic beast"?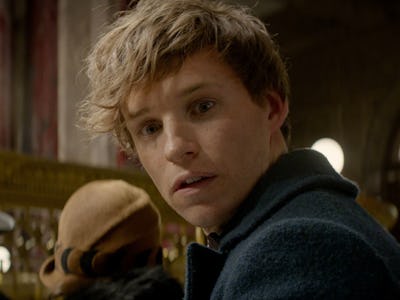 Pottermore
We've finally got a first look at Jude Law's Young Dumbledore in the upcoming sequel to Fantastic Beasts and Where to Find Them, along with a slew of new information including an official title, plot synopsis, and full cast photo. Get ready for a beast-filled, magical ride.
On Thursday morning, Warner Bros. revealed all of these updates primarily through a blog post on Pottermore.
The film, officially titled Fantastic Beasts: The Crimes of Grindelwald, features the return of most characters from the first film with the much-hyped addition of Jude Law as a younger version of the famed wizard Albus Dumbledore, among others.
You May Also Like: 5 New, Magical Details About 'Fantastic Beasts: The Crimes of Grindelwald'
Though much of the pre-existing cast remains unchanged — with Newt Scamander (Eddie Redmayne) sporting the same dapper blue coat — Johnny Depp's Gellert Grindelwald has gotten a slight makeover. His attire makes him look more like a suave rogue you ought to fear, especially because he's holding the Elder Wand.
Check out the first cast photo right here:
The photo confirms the return of Credence Barebone (Ezra Miller), but draped over him is a currently unnamed character played by Claudia Kim who is supposedly a blood-cursed "Maledictus," a new beast in the Potterverse that's similar to a werewolf.
Newt's older brother, Theseus Scamander (Callum Turner), and his fiancée, Leta Lestrange (Zoë Kravitz) also make an appearance.
The official synopsis promises lots of wizard drama and conflict:
"At the end of the first film, the powerful Dark wizard Gellert Grindelwald (Depp) was captured by MACUSA (Magical Congress of the United States of America), with the help of Newt Scamander (Redmayne). But, making good on his threat, Grindelwald escaped custody and has set about gathering followers, most unsuspecting of his true agenda: to raise pure-blood wizards up to rule over all non-magical beings. In an effort to thwart Grindelwald's plans, Albus Dumbledore (Law) enlists his former student Newt Scamander, who agrees to help, unaware of the dangers that lie ahead. Lines are drawn as love and loyalty are tested, even among the truest friends and family, in an increasingly divided wizarding world."
The globetrotting adventure will see its characters in New York, London, and Paris, so it's time to start getting excited.
Fantastic Beasts: The Crimes of Grindelwald will be released on November 16, 2017.