Jude Law to Play Johnny Depp's Lover Dumbledore in 'Fantastic Beasts 2'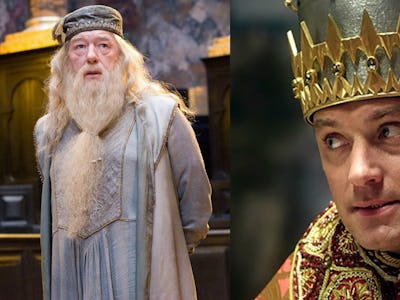 Entertainment Weekly, Warner Bros.
The dark wizard Gellert Grindelwald will hopefully make out with the Pope in the upcoming sequel to Fantastic Beasts and Where to Find Them. Jude Law (The Young Pope) has been cast as a young Albus Dumbledore, the storied headmaster of J.K. Rowling's Hogwarts in the Harry Potter series. But the Fantastic Beasts sequel, set not long after the events of the first film, will zero in on a much younger Dumbledore than ever seen before, back when he was a Transfiguration professor at Hogwarts.
"Jude Law is a phenomenally talented actor whose work I have long admired, and I'm looking forward to finally having the opportunity to work with him," David Yates, the film's director, said in a statement about Law's casting in the role. "I know he will brilliantly capture all the unexpected facets of Albus Dumbledore as J.K. Rowling reveals this very different time in his life."
The same statement gives an expected look into Law's role as a young Dumbledore: "Law will portray Dumbledore long before the iconic wizard became the Headmaster at Hogwarts, as he has been known in the Harry Potter books and movies. We meet him decades earlier when Dumbledore is still serving as the wizarding school's Transfiguration professor. He is also a contemporary of Gellert Grindelwald, the charismatic dark wizard who believes wizards are superior to Muggles and No-Majs."
Dumbledore and Grindelwald have a complicated, intense relationship in Rowling's books, and it has been more than implied in the past that they were romantically involved in one way or another. So, yes, there's a very good chance Johnny Depp (Grindelwald) and Law will make out on camera.
The Fantastic Beasts and Where to Find Them sequel is expected to premiere in theaters November 16, 2018.