Why Dumbledore Is Essential to the 'Fantastic Beasts' Films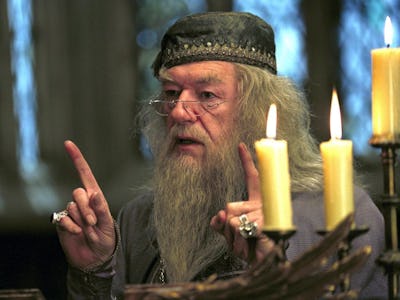 Warner Bros. Pictures
The five-film saga beginning with Fantastic Beasts and Where to Find Them is going to be epic, but it simply won't work unless there's a whole lot of Dumbledore.
There's scarcely a witch or wizard who's done more in a single (very long) lifetime than Albus Dumbledore, and his many tales and memories are proof that his influence was profound and far-reaching. Though we don't know much about the forthcoming films, given Dumbledore's impact on the events of the Harry Potter series and the fact that without Dumbledore's support, Newt likely never would've published Fantastic Beasts and Where to Find Them (thereby making the film impossible), it checks out that Dumbledore may be a key player in the new films.
Dumbledore is the common thread that connects much of wizarding world lore, plus: He wrote the foreword to Fantastic Beasts and Where to Find Them!
But that wasn't the only book to which Dumbledore lent his words and effort — he also penned the foreword for a reprinting of Kennilworthy Whisp's 1952 book, Quidditch Through the Ages.
Furthermore, a copy of The Tales of Beedle the Bard was published with commentary on each story from Dumbledore himself. The book was clearly of great significance to Dumbledore: He gifted his own copy to Hermione Granger after he died so that she might be able to use it to understand the Deathly Hallows references in "The Tale of the Three Brothers."
So, will the Fantastic Beasts saga give us a film about Dumbledore's work with Nicholas Flamel? Or perhaps his years at Hogwarts pre-Harry, complete with Tom Riddle and Hagrid? Could we see a film related to Hogwarts: A History, written by friend of Albus Dumbledore and Grindelwald's great-aunt, Bathilda Bagshot? What about an original Order of the Phoenix film? Or: We might even see parts of Dumbledore's life that we've never even heard about.
Fantastic Beasts and Where to Find Them arrives in theaters November 18.