Will Amazon Change 'Lord of the Rings'? Prequels Deal Creates Questions
There is more than enough to explore in J.R.R.Tolkien's Middle-earth.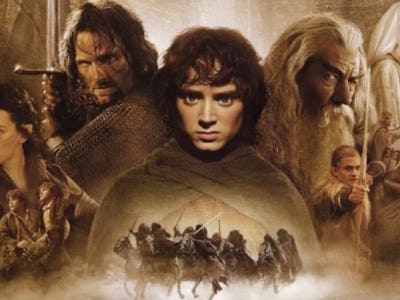 Warner Bros.
J.R.R. Tolkien's visionary high fantasy series The Lord of the Rings is officially coming to TV. What can lifelong fans expect?
Amazon announced Monday that it has officially landed the rights to J.R.R. Tolkien's Lord of the Rings series.
The interesting thing about this unprecedentedly large and expensive deal — which industry observers have characterized "insane" — is that Amazon seems to have gained access to every bit of the Tolkien Middle-earth library.
What Does Amazon Get?
Amazon has access to the original Lord of the Rings trilogy, the prequel The Hobbit, the entirety of The Silmarillion, and everything else Middle-earth. The possibilities are numerous, and Amazon announced the deal "includes a potential additional spin-off series," similarly to how HBO has been developing several Game of Thrones spin-offs.
"New Lord of the Rings Storylines"
According to Amazon, "the television adaptation will explore new storylines preceding J.R.R. Tolkien's The Fellowship of the Ring," which could technically mean a lot of things. Early speculation that Amazon would attempt to reboot Peter Jackson's movie trilogy doesn't seem to be the case anymore.
The word "preceding" indicates that the series will start right before the events of The Fellowship of the Ring, the first book in the Lord of the Rings trilogy.
Perhaps the first season will follow Strider (aka Aragorn, heir of Isildur and the rightful King of Gondor) or further detail Frodo Baggins' life in the Shire before Gandalf's arrival.
Maybe "preceding" just indicates anything before the original trilogy, which might mean a live-action adaptation of the entirety of The Silmarillion or even just a singular story from it (including The Tale of Beren and Lúthien).
Will Amazon make an anthology series that slowly explores the wonders of Middle-earth, or will audiences get a detailed narrative that winds through multiple seasons and ends right as The Fellowship of the Ring begins?
"We are delighted that Amazon, with its longstanding commitment to literature, is the home of the first-ever multi-season television series for The Lord of the Rings," Matt Galsor, a representative for the Tolkien Estate and Trust and HarperCollins, said in the statement. "Sharon [Tal Yguado, Amazon's head of scripted series] and the team at Amazon Studios have exceptional ideas to bring to the screen previously unexplored stories based on J.R.R. Tolkien's original writings."
The series will be available to watch via Amazon Prime, Amazon's streaming service.
"Amazon Prime heads to Middle Earth," Amazon founder Jeff Bezos declared on Twitter, but how it will change the Tolkien universe remain to be seen.