Facebook is Reminding People How They Felt After Trump's Election
The result was announced one year ago.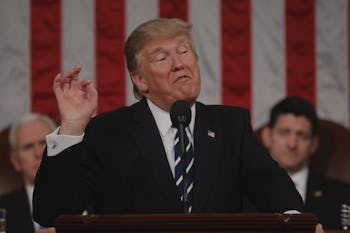 Getty Images / Pool
"My Facebook On this Day memories from last year are a massive punch in the gut." That was just one representative sentiment posted on social media on Wednesday morning, a year after Americans and the world woke up to find out that, to the surprise of many, Donald Trump had been elected president.
Facebook is reminding its anti-Trump users how they felt exactly one year ago. "On This Day," a section that commemorates the anniversary of select posts from the timeline, surfaced a number of status updates on Thursday that their authors probably didn't want to remember.
First launched in March 2015, the feature uses artificial intelligence to determine which posts people may want to see again. Positioned at the top of the news feed, it's meant to remind users of their most cherished memories, like that time they saw a dog in the park or something.
"Nostalgia is a very positive phenomenon," Facebook's Computer Vision Research Lead Manohar Paluri told Inverse last year. "So, seeing your wedding photo, for example, in an impromptu way — when you're not specifically browsing for it, but it just shows up on your News Feed — is an extremely pleasing experience. Especially when you're browsing in present, and a positive memory comes out from the past."
These posts probably aren't what Facebook had in mind, though:
"A lot of my friends are honestly probably choosing to log off for the day and avoid some of those happy memories," Danielle Butterfield, former deputy director of digital advertising for Clinton's campaign, told The Atlantic.
Soon after it launched, users criticized "On This Day" for dragging up some memories they'd rather forget, like the time their then-boyfriend's apartment caught fire, or when their friend passed away.
Seven months after it launched, Facebook tweaked "On This Day" to try to avoid these kinds of instances. By visiting the page and hitting "preferences," users can specify people and dates they want barred from the memory feed.
Without user intervention, though, it seems Facebook's tool is still surfacing unpleasant memories.
Not everybody felt despair that night. Trump, on his official Facebook page, commemorated the anniversary of his election win by sharing a highlights video from the night: