The 7 Best 'Punisher' Comics to Read Before Netflix Binging the Show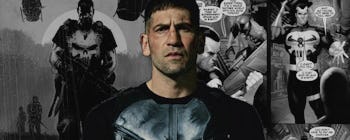 Netflix
Frank Castle is about to wage war. On November 17, Netflix will release the first explosive 13 episodes of Marvel's The Punisher, a direct spin-off of the popular series Daredevil. Set inside the Marvel Cinematic Universe, Jon Bernthal (The Walking Dead) reprises his unhinged Frank Castle, an ex-marine done wrong from Daredevil Season 2 who goes into hot pursuit of the people who destroyed his family and turned him into the Punisher.
Originally appearing in The Amazing Spider-Man in 1974, the Punisher is the brainchild of Gerry Conway, who didn't think much of his character until fans embraced him with wide-open arms. A veteran of Vietnam whose family was killed by the mob, Frank Castle wages a one-man neverending war on crime.
Though Castle arms himself to the teeth with enough guns and ammo to gear a small army, Castle's greatest asset is his grit and determination to hunt down whoever is pissing him off. You can think of him as the exact opposite of Batman: A tough-as-nails vigilante who always has a plan, but prefers going out with the loudest bang than slipping through the shadows.
For those eager to read up on Castle's exploits in comics, here are the TK best collections to hunt down online or at your local comics convention.
1. Punisher: Year One (2009)
Prior to reinventing the Guardians of the Galaxy, Dan Abnett and Andy Lanning teamed up to reboot the origins of Frank Castle in Punisher: Year One. As a modern interpretation of how Frank Castle came to be, Abnett and Lanning's Year One is all over the new Netflix series just as much as Garth Ennis, who arguably left the biggest bootprint in 21st century Punisher lore.
2. Punisher: Welcome Back, Frank (2000)
After Preacher, Garth Ennis and Steve Dillon teamed up to bring the Punisher into the 21st century in Punisher: Welcome Back, Frank, a surprisingly funny 12-issue series that still delivers on brutal action. Released in 2000, the new series set the tone for the Punisher for the next two decades as it pretty much salvaged the Punisher after his popularity waned in the '90s.
3. Punisher MAX (2004)
At 75 issues, the hefty Punisher MAX series under Ennis is perhaps the most influential series that shaped the tone and outlook of the Netflix series. With a dozen important story arcs, such as "Born" and "The Slavers," Punisher MAX is easily Frank Castle at his finest, and at times, his worst. Simply pick up the first volume in the collection and go from there — you won't regret it.
4. PunisherMAX (2010)
Though Ennis's version of the character was lauded and insanely popular, his Vietnam background only meant that Frank Castle is getting old. So it was up to Jason Aaron, who later went on to write the best modern Thor comics, who wrote PunisherMAX, that bid farewell to a version of Frank Castle that Marvel fans know best. Out of the four story arcs that made up PunisherMAX, my favorite is the one simply titled "Frank," where Frank Castle is imprisoned and reflects on his life decisions that led him to his current point.
5. Punisher: War Journal
During the game-changing events of Marvel's Civil War, Marvel paired the Punisher up with emerging writer Matt Fraction, who has gone on to comics stardom with his acclaimed Hawkeye and Sex Criminals for Image Comics.
Though Punisher had long inhabited a more "realistic" world than the rest of the Marvel Universe, War Journal put Frank in the middle of Civil War, where he shared panel space with none other than Captain America. War Journal does one bold thing with Frank, painting him in a relatively new light as a Captain America fanboy who maybe learned the wrong lessons of crime-fighting.
The title, War Journal, is lifted from another, equally influential 1988 series, The Punisher: War Journal, which ran for a whopping 80 issues and featured talents like Mike Baron, Carl Potts, Roger Salick, John Wellington, and even Jim Lee.
6. The Punisher: On the Road and The Punisher: End of the Line (2016)
In 2016, Becky Cloonan brought forth the Punisher into the "All-New, All-Different" era of Marvel by keeping Frank Castle exactly how he should be. Perfectly suited for newcomers while also offering a fresh take on Castle's psyche, Cloonan is unlike any previous Punisher writer before, keeping a gritty tone to the character without any of the bleak, adolescent nihilism casual observers may associate, and be turned off by, with the Punisher.
7. Deadpool vs. The Punisher (2017)
There's no way around it so let's just say it: It's Deadpool versus the Punisher. You're going to love it.
The Punisher hits Netflix on November 17.