E3 2015 Monday Recap: Microsoft, EA, Ubisoft, Sony
A rundown of E3's Monday conferences.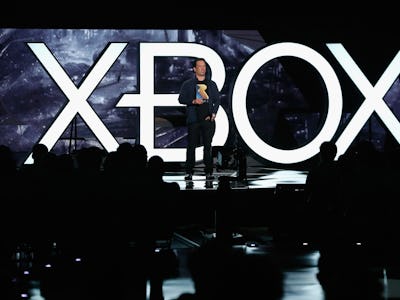 Getty Images
Bethesda Softworks kicked off this week of E3 last night with their inaugural show, announcing a slew of what's to come; games like "Doom," "Dishonored II," and the much-hyped "Fallout 4" set for release this November have set a high bar.
Today, some of the industry's giants — Microsoft, EA, Sony, and Ubisoft — took the stage in Los Angeles to announce their own wares in hopes to steal the show. But who soared high, and who fell on their face? Welcome to E3.
Microsoft: Games
Leading up to E3, Microsoft promised one of the strongest line-ups in the history of ever with a focus on first-party exclusive titles and the return of some of their most beloved franchises. Well, they delivered. And then some.
Starting off with a montage using the same theme from the Man of Steel trailer, Xbox teased with the return of "Gears of War" but began with "Halo 5: Guardians."
"Halo 5: Guardians"
A live-demo was shown featuring the titular Guardians searching for Master Chief. Touted as being built from the ground up on Xbox One.
Soon after, multiplayer was shown off. While it will come with typical Deathmatch variants, a peculiar game type is "Warzone, where hordes of Covenant forces are dropped in-between skirmishes of red team vs. blue team battles. Said to be "everything vs. everything," whatever that means.
"Recore"
The first Xbox One exclusive announced is a stylish, apocalyptic sci-fi adventure title. The trailer showed off a female protagonist with a robotic companion behaving like a dog — it's not exactly a dog, but just close enough to make me wonder if having dog companions is the next gaming trend.
"Fallout 4"
In a bite-sized encore of yesterday's Bethesda conference, Todd Howard showed off "Fallout 4" on a "next-gen platform," not explicitly saying if it was Xbox One or not. But Xbox owners are given some treats: All PC mods of Fallout 4 can be played and shared on Xbox One, and "Fallout 3" will be bundled with "Fallout 4." Yet another weapon for Microsoft to get PC gamers onto Xbox.
EA Access Vault
Peter Moore, COO of EA takes the stage after to show off EA Access Vault, to a muted response. Xbox One gamers will be able to play all games in EA's vault free starting today for one week. Touted as "Play More, For Less," it's a subscription service that offers free games and discounted digital content. "Titanfall" will be a part of the service this week, and the gigantic "Dragon Age: Inquisition" will be out on the service this fall.
"Plants vs. Zombies: Garden Warfare 2"
A cute, if unnecessarily long trailer was shown off. It was set to "Highway to the Danger Zone" by Kenny Loggins, so they're really trying to show how tongue-in-cheek they are.
"Forza Motorsport 6"
Showing off the new Ford GT live on the stage, "Forza 6" was shown off with all its nifty features, such as real-world tracks and 24-person multiplayer. Another Xbox One exclusive. So far, that makes three.
"Dark Souls III"
Announced via a long, ambiguous trailer until the title was shown at the end. Just a trailer, no gameplay footage. Set for release in 2016, it is unknown if it is an Xbox One exclusive, and it's unlikely.
"Tom Clancy's The Division"
Another trailer, but with an introduction from its developers. Set in New York just after society has fallen, it's an action RPG that is going to "feel personal." Not an Xbox One exclusive, but only Xbox gamers can play the beta this December.
"Rainbow Six Siege"
Also within the Tom Clancy family of games, "Siege" is going to have a focus on "teamplay" and "realism" and feature highly destructible environments.
Two more Xbox 360 backwards compatible games were announced: "Rainbow Six Vegas" and "Rainbow Six Vegas 2."
"Gigantic"
Another exclusive title for Xbox One and Windows 10 shown off in a trailer. It's a stylish action game that looks like a Walt Disney movie drawn by a Greek and Asian mythology buff. There is an emphasis on large monsters (Guardians) which adds an interesting sense of scale. The beta will go live August 2015. It was announced as free-to-play, but details are scarce.
A montage of indie games on Xbox One, shows off a wide variety of smaller titles. A few were brought to the stage to show a brief presentation.
"Tacoma"
From the makers of "Gone Home," it's a survival game set in an evacuated space station. Think "Alien" but less scary.
"Ashen"
Very little is known, except it was a gray- and dark-colored exploration game with a very mysterious story.
"Beyond Eyes"
Said to be "a story of hope" by director Sherida Halatoe, "Blind Eyes" lets you play as a blind little girl discovering the world. It has a very bright and colorful look, almost like you're playing within a watercolor painting.
"Cuphead"
Out of all the indie titles shown on Xbox, this made the biggest impression: "Cuphead" is an arcade, 16-bit style sidescrolled drawn flawlessly in the style of a 1930's Mickey Mouse cartoon. It looks aged and dusty, which is phenomenal. Its trailer closed off with a cute release date: "Coming 1936 (plus eighty years)."
One of these games was "Ion," an MMO set in space shown only via a trailer. Kind of looked like "Gravity." Created by the makers of the indie-hit "DayZ."
"Rise of the Tomb Raider"
One of the muscles Microsoft wanted to flex, and flexed they did. The revitalized "Tomb Raider" franchise has become hot again and Microsoft secured a timed-exclusive deal for the new installment.
In a thrilling six-minute demo, Lara Croft climbs an icy mountain with a partner during a heavy storm. Naturally, things go wrong and Lara Croft is sent flying across gigantic gaps and sliding down slopes with an avalanche following her. Even watching on a tiny laptop monitor, it was gripping.
"Rare Replay"
Yet another Xbox One exclusive. Renowned game studio Rare is celebrating thirty years of producing beloved games, and the nifty "Rare Replay" collection is coming August 4, 2015. Containing 30 games for just $30, it includes Rare's hits like "Conker's Bad Fur Day," "Battletoads," "Perfect Dark," and way more. The collection will feature a staggering 10,000 achievement points.
And then, Rare studio head Craig Duncan comes out on stage to announce Rare's newest project, said to be their most ambitious project ever.
"Sea of Thieves"
An Xbox One exclusive, the trailer featured "real-time footage." It is a multiplayer, open-world pirate/swashbuckler adventure. Not much else is known, but the trailer showed off ship battles and battles on deserted islands.
"Fable Legends"
An Xbox One and Windows 10 exclusive, "Fable Legends" has been shown extensively before so a brief trailer was made just to remind everyone it's coming. "Games of Thrones" star Lena Headey narrated the trailer.
"Gears of War: Ultimate Edition"
An Xbox One exclusive, "Gears of War: Ultimate Edition" is a remastered version of the first "Gears of War," fully rebuilt at 1080p and 60fps. Comes out August 21, and a one-week public beta starts today. Price TBA.
"Gears of War 4"
Shown off in a live-demo, "Gears of War 4" was shown off with two new characters, one of them a woman. It was a clear return to "Gears of War"'s survival-horror roots; it was a dark, atmospheric level with dread and paranoia throughout. Set for release holiday 2016.
Xbox head Phil Spencer returned to the stage with a beat-chest statement: "If you have been waiting to move from your Xbox 360, now is the time." He ambiguously stated there will be more announcements throughout the week, alluding to a change in the Xbox user interface. A flashy montage trailer followed to close the conference.
Microsoft: Peripherals
Xbox Elite Controller
Microsoft announced Hololens in January, and Microsoft hopes to take gaming away from the "boundaries of screens." Using Minecraft and a special attachment on the live cameras, Microsoft showed off gaming on a space away from a screen and within a realized 3D model. Think Star Trek chess, only REAL.
A brand new Xbox controller was unveiled. Fully customizable with swappable parts for total personalization and gaming efficiency. It was shown off like a high-tech car. Retails for $150.
*Xbox 360 Backwards Compatability
Free to everyone "this holiday," Xbox One will support "hundreds" of Xbox 360 titles and more in the months to come. Shown off at E3 was the climax of the original "Mass Effect" released in 2007. Full Xbox One features, such as snapping and Kinect commands, are included. This is a free feature, but downloads for each game were hinted at. Expect lengthy download times if you want to play "Skyrim."
*Xbox Game Preview Program
Told only through an announcement, gamers can try select new games that are still deep in development, and can see how they progress over time. Anyone can join starting this afternoon. A scarcely-detailed sci-fi game, "Ion," was shown as part of the program.
*Valve VR, Microsoft Hololens
Kudo Tsunoda took the stage to talk Microsoft's partnership with Valve's VR initiative. They're aiming for Windows 10 to be the platform for VR gaming. The Oculus Rift was discussed, with its bundling with an Xbox One controller. Microsoft confirmed Xbox One games through Windows 10 will be playable on Oculus Rift.
EA
Publishing giant Electronic Arts has always been big enough for their own E3 show, and this year they've got a few triple-A products sure to please hardcore gamers and their slew of sports titles that have led them to become the giants they are.
Starting off with a bang, EA shows off the next "Mass Effect" game, titled "Mass Effect: Andromeda."
"Mass Effect: Andromeda"
Curiously set to a Johnny Cash song, the trailer showed off the return of the Mako and quick flashes of the new Andromeda galaxy players will explore. Neat, and started EA on the right foot.
"Need for Speed"
Looking like a less-interesting "Fast & Furious" movie, "Need for Speed" has returned in a spiritual successor to its line of street racing series released throughout the mid-aughts. Featuring a sprawling open-world with police chases. A little too long of a presentation, and killed any momentum EA had going forward.
"Star Wars: Knights of the Fallen Empire (Star Wars: The Old Republic Expansion)"
A new expansion for "Star Wars: The Old Republic," an MMO game I didn't even know people still played. The new expansion brings signature BioWare storytelling complete with morality-driven choices whose consequences are rippled throughout the world. Free to all "Old Republic" subscribers, but again, were people still playing this game?
"Unravel"
Staring off with an extremely quiet reception, "Unravel" charmed with its cute protagonist and unique presentation. The director actually came on stage talking about the doll he made that inspired the game. It was kind of cute.
"Plants vs. Zombies: Garden Warfare 2"
An in-depth, lengthy look at the new "Plants vs. Zombies" title. It's cute and it sells.
EA announced at the end that "Plants vs. Zombies: Garden Warfare 2" will get continuously free content updates to ensure its long lifespan.
"Star Wars: Galaxy of Heroes"
An upcoming mobile card game. Not much is known beyond that, and not much is expected out of it either. EA has done this before, what's new this time? Probably nothing.
"NHL 16"
Kicking off EA's sports titles is a trailer for "NHL 16." And just a trailer, nothing else.
"EA Sports Ultimate Team"
A feature across all EA Sports games, they were vague on how it exactly worked but supposedly it lets you manage your teams across all EA Sports games.
NBA Live 16, Madden 16
They were the same games, but more refined. Some guy named "Hoop Gawd" was on stage to demonstrate NBA's "Game Face" feature. Boring. Next.
"Minions' Paradise"
A Minions game for mobile. It's a game for your niece or nephew, probably not for you. It was squished in between NBA Live and Madden for some reason.
"FIFA 16"
Featuring Pele live on stage, it was an "interview" that made almost no sense. Yeah, it's Pele, but where is the game?
Like the other EA Sports titles, FIFA 16 is a good-looking sports title that plays well and you know exactly what to expect. For the first time ever, women's teams are included, but that's it.
An exclusive gift was left for all FIFA 15 players, and they were not clear what it was but it was Pele-related.
Mirror's Edge: Catalyst
A reboot/prequel of 2008's "Mirror's Edge," "Mirror's Edge: Catalyst" features a sprawling open-world with no loading screens so you "are truly free." A nifty game trailer with gameplay footage was shown off. Set for release February 23, 2016.
Star Wars: Battlefront
EA COO Peter Moore introduces "Star Wars: Battlefront" FINALLY. An impressive, five-minute long demo played on a PlayStation 4 was shown off and featured the battle on Hoth from Empire Strikes Back. It was everything you wanted and more.
Ubisoft
The French game publisher whose empire is built upon franchises like "Assassin's Creed," "Prince of Persia," and the Tom Clancy games kicked off E3 with… "South Park."
"South Park: The Fractured But Whole"
A sequel to the critically-acclaimed "South Park: The Stick of Truth," the game will feature a spoof on superheroes and away from its previous fantasy theme.
"For Honor"
A brand new IP from Ubisoft that wowed with a live eight-player match. The game pits knights, samurai, and vikings against each other across sprawling battlefields. Also, the game director presenting it is INTENSE.
"Wild Ride" ("The Crew" expansion pack)
Trailer only. Expands on "The Crew" which was apparently a hit.
"Trials Fusion: Awesome Levels Max" ("Trials Fusion" expansion pack)
Also just a trailer, but that trailer has a cat riding a fire-breathing unicorn.
"Tom Clancy's: The Division"
A new game in the Tom Clancy line of military shooters, this one is an online open-world action RPG with an emphasis on co-op missions. Also capable of intense, game-changing betrayals by rogue players.
The betas will be on PC, Xbox One PS4, "early next year." Full game will be released March 8, 2016 on all platforms simultaneously.
"ANNO 2205"
A new sci-fi sandbox game reminiscent of "SimCity." Players build a city from the ground up with the aim to colonize the Moon. Beta starts later this year, release date TBA.
"Just Dance 2016"
Jason Derulo performed to introduce "Just Dance 2016," which has ditched all needs for a camera peripheral. Instead, smartphone cameras can be used instead.
"Rainbow Six Siege"
A new trailer announces actress Angela Bassett as "Agent 6," the leader of Team Rainbow with stunning motion capture.
"Ghost Recon: Wildlands"
An open-world tactical co-op shooter. Not a lot is entirely known but a trailer was shown featuring targets across the globe. Expect lots of traveling.
"Trackmania Turbo"
Launches this November on PC, Xbox One and PS4, the game will feature procedurally generated tracks which was demoed live during the presentation.
"Assassin's Creed Syndicate"
The next major installment of the "Assassin's Creed" franchise. This time set in Victorian England. It's sure to sell a bajillion copies like the other games have every year since 2007. 
Sony: Games
In a near-flawless performance, Sony delivered with some new IPs, returning franchises, and the announcements of three long-awaited games. Sony also announced their own VR peripherals, the Morpheus, which garnered a muted response
"The Last Guardian"
Starting with a BANG, Sony shows off the long-anticipated "The Last Guardian," first thought to have been outright cancelled. The game will be released 2016.
"Horizon: Zero Dawn"
From the developers of "Killzone," comes a post-apocalyptic game featuring a young woman fighting alongside humans warring with mechanical beasts. Features a lush world and primitive tribes. Release date TBD.
Street Fighter V
Remember when "Street Fighter" could only be played on Nintendo? "Street Fighter V" is exclusive to the PlayStation this generation, and it made quite an impression showing off the PlayStation's horsepower under its hood.
"Hitman"
Reboot? Sequel? Agent 47 is welcomed back into the fold, but the game is simply titled "Hitman" with a cinematic trailer.
"Dreams"
A new IP for the PlayStation 4, "Dreams" is difficult to categorize or even describe, but it is a sandbox-style game that allows you to create scenes using the DualShock 4 to its utmost potential. The demo showed off custom animations using motion controls, but not much is known beyond that.
"The Taken King ("Destiny" DLC)
Set for release September 15, this new expansion will feature new quests, enemies, locations to explore, Strikes and Crucible maps, a new Raid, and more. Also features new subclasses for each Guardian type and new super moves.
In regards to the story, players will go after Oryx. The expansion is set for release just over a year after "Destiny" was first released. New expansions were always in mind for the Sony PlayStation due to Sony's exclusive deal with Activision.
"Final Fantasy VII Remake"
After years of requests, Square Enix announced they will be remaking Final Fantasy VII entirely for the new console generation. The wording indicates that it will come to the PlayStation 4 "first" before seeing release in other consoles.
"No Man's Sky"
In an impressive live demo, developer Hello Games showed off "No Man's Sky" featuring a deep exploration into a planet even creator Sean Murray admitted he had never explored before.
"No Man's Sky" has been under heavy refinement but did not announce a definite release date. Murray said it would come soon, "I promise."
"Shenmue 3"
Sony stunned by presenting Yu Suzuki, director of the cult-hit "Shenmue" and "Shenmue II" to announce "Shenmue III" and its Kickstarter initiative. In just a few hours, its $2 million goal was met.
"World of Final Fantasy"
A cute "Final Fantasy" game featuring chibi-like characters and monsters. Details are scarce but it launches on PS4 and Vita in 2016.
"Call of Duty: Black Ops III"
"PlayStation is the new home of Call of Duty," says PlayStation CEO in a new exclusive deal. Toppling Microsoft as the go-to for Call of Duty exclusives. The game is set for PC, PlayStation 4 and Xbox One this November, but gamers can try the beta on PlayStation this August. Previous-gen versions are also in development.
"Firewatch"
Camp Santo's first-person adventure game "Firewatch" makes debut on PS4 first before arriving on Linux, Windows and Mac. It is a fictional game that takes place during the real Yellowstone fires of 1988.
"Unchartered 4: A Thief's End"
After a brief hiccups during the live demo, Naughty Dog ended Sony's E3 conference with an impressive look at the upcoming "Unchartered 4," which is hinting to be the end of protagonist Nathan Drake's career as a treasure hunter.
Sony: Peripherals
Morpheus
Not to be outdone by Microsoft and their VR breakthroughs, Sony's investment in Morpheus had a presence at their E3 stage, but there were no live demos on stage.
PlayStation Vue
Sony's media service for the PlayStation is doing what cable refuses to do: Offering a la carte channels that do away with the bundles cable customers are forced to buy. Sony may not have VR ready to show, but this is quite a game-changer.