Dwayne Johnson's DC Villain May Debut in 'Suicide Squad' Sequel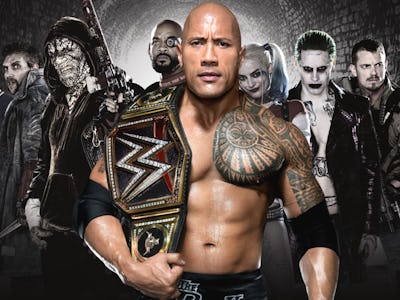 Warner Bros., WWE
It's been awhile since Dwayne Johnson has wrestled in the ring, but Warner Bros. is cooking something for Black Adam. Rumors indicate Johnson's DC villain, Black Adam, will be the antagonist in the sequel to Suicide Squad, meaning Black Adam might lay the smackdown on Deadshot, Harley Quinn, and whoever else in the follow-up to 2016's strangest blockbuster.
In a report from TheWrap, the current plot for Suicide Squad 2 — final title TBD — will involve Amanda Waller's Task Force X tracking down "a weapon of mass destruction." That weapon, it would seem, will be Black Adam himself, a living amalgamation of several Egyptian deities into one individual. In the comics, Black Adam has historically been the main villain of the DC superhero, Shazam (formerly named Captain Marvel).
TheWrap adds that while Johnson's schedule is a bit busy, which at the moment includes shooting his HBO series Ballers and a Fast & Furious spin-off with Jason Statham, Johnson's "part shouldn't take much time to shoot," says sources.
Last May, Johnson, who announced he would become Black Adam two Fast & Furious movies ago, told Fandango that "We have a really cool surprise for Black Adam that I can't reveal, in terms of where we will see Black Adam being introduced."
At a glance, it would make more sense to introduce Black Adam in Shazam!, a movie set to be directed by David F. Sandberg who recently helmed the acclaimed horror film Annabelle: Creation. But the DC movie continuity has been anything but simple, and Johnson's star power could be the much-needed bolt to DC's Suicide Squad franchise — if it even is one yet. At the moment, Suicide Squad 2 may potentially be directed by Gavin O'Connor, who previously directed the Ben Affleck film The Accountant and Tom Hardy in The Warrior.
Created by Otto Binder and C.C. Beck in 1945, Black Adam is an ancient Egyptian warrior named Toth-Adam, who was rewarded for his good deeds and granted powers by the wizard Shazam. A reboot in 1987 made the "SHAZAM" acronym region appropriate, as it represented Egyptian gods Shu, Horus, Amon, Zehuti, Aton, and Mehen.
Suicide Squad 2 is expected to release in 2019.