Aquaman Actor Reveals Details About the 'Justice League' Post-Credits Scene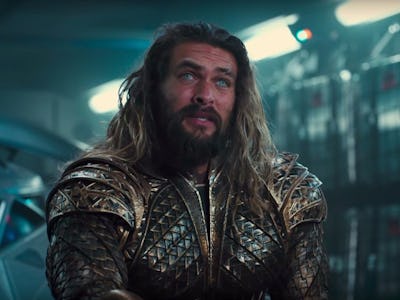 Warner Bros. Pictures
Fans who watch DC's long-awaited superhero team-up Justice League should stick around until the credits finish rolling because one of the film's actors just confirmed that there is a post-credits scene added to the film.
During a live interview with Ore Oduba for BBC Radio on Monday, actor Jason Momoa spoke about his experiences as Aquaman in Justice League and the upcoming solo Aquaman film. In it, he confirms what should be considered obvious at this point: DC's superhero team-up movie will have some kind of post-credits scene that probably teases one of the upcoming films in the universe.
At about the 6:45 mark during the radio interview, Oduba asks Momoa specifically about a potential post-credits scene for Justice League. The actor says, "You gotta sit through the whole thing. Go through the credits." Momoa doesn't elaborate much beyond that, but he does mention that he managed to forget all about it when he saw the movie himself, admitting that he absentmindedly almost walked out. Momoa said, "I forgot that it was in the script."
Does that mean the post-credits scene has nothing to do with Aquaman, and instead focuses on other characters entirely? In any case, it's good confirmation that viewers should stay until the end, as unlike the Marvel movies, not every DCEU flick has had a post-credits scene.
Momoa also detailed a few pipe dreams about a DC-Marvel movie crossover, perhaps fueled by the recent release of Thor: Ragnarok: "Personally, I'd really like to get my butt beat by the Hulk, and then, you know, take him out to the ocean and show him my stuff too." Momoa also had positive things to say about Chris Hemsworth, who plays Thor, calling him "a really dear friend."
The Aquaman actor also had positive things to say about his new teammates, especially fellow newcomer Ezra Miller as Barry Allen, aka The Flash. "I giggled nonstop," Momoa said. "That guy tickled me all throughout that movie."
But when it comes to a post-credits scene, could we finally see a Green Lantern emerge from the shadows? Or will we get a brief tease of a Wonder Woman sequel? We'll have to wait and see.
Justice League will be released November 17.
If you liked this article, check out this video where the stars from Professor Marston and the Wonder Woman talk about how psychology helped created Wonder Woman.