'Justice League' Promo is an Aquaman Primer For Those Who Don't Know Him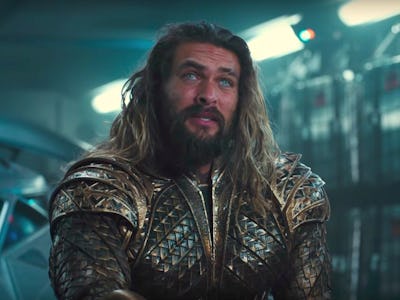 Warner Bros.
Aquaman will be making his proper DC film universe debut in Justice League following a tiny cameo in Batman v Superman. And, in anticipation for the superhero team-up, a helpful video is here to get fans all caught-up with what they need to know about the ocean-faring hero.
On Wednesday, the AT&T YouTube channel uploaded a video which gave us some background on Aquaman. For people familiar with the character, he's going to be pretty much what you expect: a half-man, half-Atlantean who's super strong, super fast underwater, and able to "command all sea life." But the video also shows off this Aquaman's differences, on top of the fact that Jason Momoa is Polynesian, while the character is white in the comics. This Aquaman has much more of a rockstar personality, and isn't yet the King of Atlantis, though he is the heir to the throne.
As the video mostly uses footage that's been released before, there isn't much in the way of anything new here, but the video does have some fun and interesting quotes from Momoa. "When he finds his place with the Justice League, that's when he can really put his skills to use," he says.
He also says that one of his favorite things to film was when he jumped on the Batmobile. "That was badass." Momoa said. "I was like, 'I can't believe I'm surfing the Batmobile right now'," he continued.
The video is part of the Aquaman Week promotion for Justice League, which started yesterday and acts as "a deep dive into what makes Aquaman the true master of the ocean, and all-time legend of the DC universe." Evidently, DC is eager to turn people's opinion of Aquaman as "the guy who talks to fish" around.
Justice League comes out in US theaters on November 17.