'Justice League' Changes a Major Detail for One Hero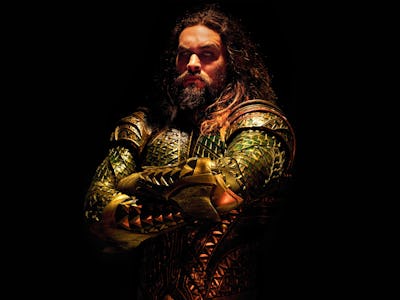 Warner Bros. Pictures
Of all the characters in Justice League, Aquaman had the most dramatic makeover, eschewing the blonde hair and blue eyes from the comics for Polynesian actor Jason Momoa. But looks aren't the only thing that's changing for the aquatic superhero.
In a new trailer specifically made for the Japanese market, the film's core five actors — Ben Affleck, Gal Gadot, Ray Fisher, Ezra Miller, and Momoa — gather together to introduce their characters. When it's Momoa's turn to discuss his Aquaman, he reveals, "Aquaman is the heir to the throne of Atlantis but resists that title and any responsibility that comes with it."
It may have lasted barely a second, but Momoa's description is quite the bombshell reveal, as it fundamentally changes Aquaman's character within the context of the Justice League.
In most versions of Aquaman, Arthur Curry is a reluctant member of the Justice League who comes off like he'd rather be somewhere else. Being the ruler of a kingdom, Aquaman has more pressing matters than saving the planet from Darkseid for the billionth time. It's also hard to accept being a king but still follow orders from a rich asshole in a bat costume.
In Justice League, however, Momoa looks like he'll be a departure from the norm with an Aquaman who refuses his obligation to the throne. Based on the trailers, Aquaman prefers a freer life on the surface world; he's even become a local legend who helps a small harbor town get by (with free beer as recompense).
See the trailer below.
Justice League will be released on November 17.
If you liked this article, check out this video that reveals another reason for Bruce Wayne becoming Batman.