Will InsureMyTesla Disrupt Auto Insurance Like Tesla Did the Auto Industry?
Car insurance companies will feel the pressure to drop premiums.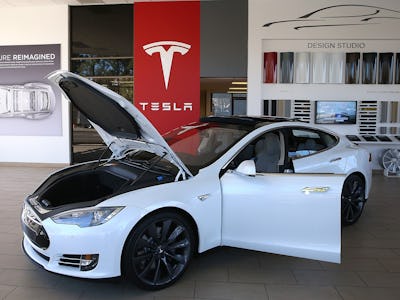 Getty Images / Justin Sullivan
Tesla quietly implemented an insurance policy for its North American car owners last month.
InsureMyTesla, as it's being dubbed, has rolled out in partnership with Liberty Mutual Insurance Company in the United States and with Aviva in Canada. It previously launched in Hong Kong and Australia in early 2017. The automaker is hoping to give vehicle owners discounted rates specifically tailored to their Tesla's much-touted advanced safety features, such as the Autopilot system.
The shift toward self-driving cars should eventually make auto insurance obsolete, as autonomous vehicles are designed to avoid almost all the collisions and crashes of human drivers. Until fully driverless cars hit the road, Tesla's safety features should at least theoretically reduce insurance rates, but some Tesla owners reported paying higher than average premiums to drive their cars.
For instance, the insurer AAA raised rates on Tesla vehicles in June. AAA based its decision on data showing the Model S and Model X had "abnormally high claim frequencies and high costs of insurance claims compared with other cars in the same classes."
Tesla responded to the news by saying AAA's analysis is "severely flawed and is not reflective of reality." Tesla said that comparing the Model S and X to something like a Volvo station wagon is an unfair way to decide premiums.
Musk's suggestion that Tesla owners switch insurance companies foreshadowed the newly announced Liberty Mutual partnership.
"Not to the exclusion of insurance providers but if we find that insurance providers are not matching the insurance proportionate to the risk of the car, then if we need to, we will in-source it," he said in February. "I think we will find that insurance providers do adjust the insurance cost proportionate to the risk of a Tesla."
While Tesla-friendly insurance has been a long time coming, the future of insuring self-driving cars remains a mystery for the most part. As the whole point of the cars is to eliminate human driver error, auto insurance providers will have to figure out what kind of premiums, if any, it makes sense to charge the human "drivers" of these vehicles.
Right now companies make money by insuring drivers for the potential car accidents they cause, which are a whopping 90 percent of all car accidents in the U.S., according to the National Highway Traffic Safety Administration (NHTSA).
It's only a matter of time before Tesla and other self-driving vehicle makers, along with buyers, argue that insurance premiums must drop to reflect the lack of crashes by humans.
What about the specifics of the plan? Jon McNeill, Tesla's President of Sales and Services, said earlier this year that the company works with insurers in each country to develop policies based on "Autopilot safety features and the maintenance costs of the cars."
What InsureMyTesla offers would appear to reflect that: Coverage will be available in all 50 states, with benefits like the Guaranteed Repair Network shop and Rental Car Services helping drivers get their Tesla quickly back onto the road after an accident. Here's the full list of features.
"Designed for Tesla cars, InsureMyTesla enhances the customer experience with the following benefits:
New Car ReplacementTM - Allows for a brand new car within the first year in case of a total loss
Rate guaranteed for one year
Genuine Replacement Parts
Optional 24-Hour Roadside Assistance beyond the Tesla Warranty
Optional Rental Car Reimbursement to pay your rental costs for as long as it takes to fix your Tesla
Claims Valet ServiceTM to drop off a rental car at the scene or schedule a swap at an agreed upon time and place
Is the Tesla roof worth the cost? Check out this video to find out.