'Thor: Ragnarok' Star Confirms Big 'Infinity War' Change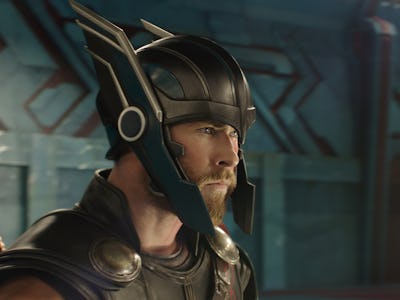 Marvel Entertainment
Ragnarok may be over, but the march to Infinity War has only begun. As fans of the Marvel Cinematic Universe witnessed at the end of Thor: Ragnarok, the God of Thunder sports an all-new, all-different different look. And in a new interview, Chris Hemsworth confirms that Thor's new style will carry on into Avengers: Infinity War next year.
Spoilers for Thor: Ragnarok ahead.
After fighting his sister Hela in Thor: Ragnarok, Thor enters Infinity War with more than a few wounds. Gone are his two biggest sources of pride — his hammer Mjolnir, and his long blonde mane — as well as his right eye, now covered by a bronze eyepatch (just like his father, Odin). In a new interview with Entertainment Weekly, Hemsworth confirms that this is how Thor will look in Avengers: Infinity War, which hits theaters next May.
"Yeah we carry it into the film with the eye patch you see in this film," Hemsworth said in an interview.
Thor's new look is especially noteworthy given the God of Thunder's prominence in the leaked Avengers: Infinity War teaser from San Diego Comic-Con. In the teaser, Thor is the first Avenger to meet the Guardians of the Galaxy, and while his head was shaved, he didn't have an eye-patch nor a wounded eye. In all likelihood, this was designed by Marvel Studios to keep fans from the spoilers that awaited them in Thor: Ragnarok.
But for die-hard comics fans, this change won't be unwelcome. Aside from being a refreshing change from how Thor has looked since 2011, he now looks like two of his coolest comics incarnations — Unworthy Thor and Old King Thor — smushed together into one. But for director Taika Waititi, it was the story that helped create the look, not just referencing the comics.
"That kind of just evolved just throughout the script process," Waititi told Entertainment Weekly, "to just keep stripping that character down, having him lose the hammer and all those things and to kind of create a broken version of the character. At the end, he sort of becomes a refugee."
Though Thor may be lost between now an Infinity War, it's only a matter of time until he reunites with all his Avengers colleagues to fight against Thanos.
Thor: Ragnarok is in theaters now.