Kevin Smith Is Responsible For 'Thor: Ragnarok' in a Weird Way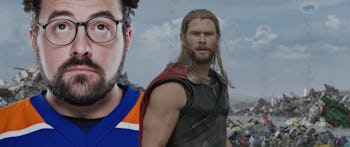 Marvel Entertainment, SModcast
Snooch to the Asgarian nooch. With Thor: Ragnarok smashing its way into theaters, fans and moviegoers might have noticed just how different the third Thor installment looks from the previous two movies. In a new interview, actor Chris Hemsworth revealed the unlikely source that inspired him to tell Marvel Studios boss Kevin Feige to change things up.
In an Friday Vanity Fair story, Hemsworth revealed that geek media personality Kevin Smith, the director of Clerks and Dogma, ragged on Thor in one of his many podcasts. The character, Smith essentially said, was a snore. Those comments inspired Hemsworth to confront Feige, since he was experiencing similar feelings.
"Hearing someone like Smith, who represents the fanboy world, was such a kick in the ass to change gears," Hemsworth said. "We sort of had nothing to lose. People didn't expect what we did with it this time around."
In the Vanity Fair piece, it's revealed that Hemsworth, who was "frustrated and bored" as the character, went to Feige hoping to change the generally straightforward Thor movies. It appears that Feige listened, with Thor: Ragnarok making use of more improvisational humor courtesy of Taika Waititi, the indie film sensation from New Zealand who previously directed critical hits like What We Do in the Shadows and Hunt for the Wilderpeople.
As for Smith, the famed comic book geek and director has enjoyed a continued career as the director of several DC CW shows, including The Flash and Supergirl. Smith is also active with his own podcast network, reality show Comic Book Men on AMC, and small scale genre pictures like Tusk and Yoga Hosers, which haven't been as well-received as his earlier works.
Meanwhile, Mark Ruffalo, who reprises his Hulk in Ragnarok, credits Guardians of the Galaxy for changing things up. "Guardians of the Galaxy opened up a whole new … door in the Marvel Universe, you know? It could go to space; it could be funny; it could be colorful; it could be—it has a style that's totally disconnected from the rest of the Marvel Universe, and so on and so forth," he said. "I think that opened the door for Taika, you know. So he's like the natural, next generation of that kind of thinking."
Things still look quintessential Marvel in Avengers: Infinity War next May, but perhaps the future after Thanos will look different.
Thor: Ragnarok is in theaters now.