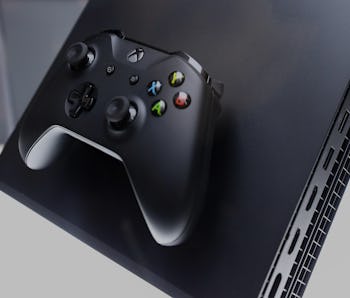 Innovation
Xbox One X is a Big Upgrade, if You're Looking for the Right Thing
Microsoft's new console is not for everyone.
Getty Images / Christian Petersen
The Xbox One X is not for everyone, according to the first round of reviews.
Microsoft's $499 console, set to launch next Tuesday, promises to run supported Xbox One games with graphical enhancements, thanks to more powerful internal components that make it the most powerful console on the market. For some games, that means full, 4K resolution gaming at a smooth framerate. But is it worth spending the $250 extra compared to the Xbox One S? Not necessarily.
"If you already have a large stack of Xbox One games and you're using the original console, this is going to be a nice upgrade if you own a 4K TV," said Tom Warren in his review for The Verge. "For anyone else, this probably isn't the console for you. Sony really has some impressive exclusives on the way, and it's hard for Microsoft to counter this despite its great job on the hardware. Microsoft promised the best hardware, and it delivered — but that's nothing without games."
The new console has no exclusive games, instead running the same Xbox One games with enhancements for those that have received updates. Microsoft expects around 150 games to get such an upgrade, but if you're not satisfied with the current catalog of games out there, the Xbox One X does not change that.
"If your decision is about upgrading from an Xbox One or Xbox One S, it would be smart to wait a while and see just how enthusiastically developers support the new machine," Keith Stuart said in his review for The Guardian.
The new machine boasts six teraflops of graphical performance, beating out the 4.2 teraflops in the $399 PlayStation 4 Pro. It's a notable improvement over the original Xbox One as well, which offered 1.3 teraflops of power.
"For those who want to squeeze every ounce of graphical detail, the visual improvements are significant, and it's remarkable that the Xbox One X manages to be the world's most powerful console in such a small, quiet, and inconspicuous package," Napier Lopez said in his review for The Next Web.
Although the One X is powerful, it's the smallest console Microsoft has made. It uses a vapor chamber cooling system to provide power in a box just 11.81 inches by 9.44, about the same size as the Xbox One S.
"The One X's matte black, monolithic body fits perfectly into my entertainment center without looking obtrusive," Daniel Howley said in his review for Yahoo Finance. "In fact, I prefer its design to the rhomboid sandwich that is the PS4 Pro."
At its heart, though, it's still an Xbox One. That means it has basically the same pros and cons against the PlayStation 4 as before.
"One thing I find perplexing is the lack of virtual reality," Brendan Nystedt said in his review for Wired. "It might not be as important as on the desktop, but Sony's PSVR has become an appealing gateway drug for curious gamers."
Microsoft originally promised virtual reality support when it announced the console last summer, but it's launching with no signs of it anywhere. However, corporate vice president of devices Panos Panay recently hinted that Windows Mixed Reality headsets could come to the console at a later date.
For now, that also means no exclusive games, for better or for worse. Developers will have to ensure their games run on both old and new hardware.
"A current commitment of both console manufacturers to have games play across their respective "families" will naturally limit just how far both first and third party developers can go beyond sprucing up the visuals," Tom Hoggins said in his review for The Telegraph. "The future is unclear, then, but is an intriguing course for the home console industry to be headed."
What the console does set out to do, reviewers found it pulled off flawlessly.
"After a week with the console and hours of gaming, I can firmly state the Xbox One X is the best Xbox to date," Matt Burns said in his review for TechCrunch. "This Xbox has everything."