Microsoft Just Revealed Windows Mixed Reality Release Date
The future of computing is almost here.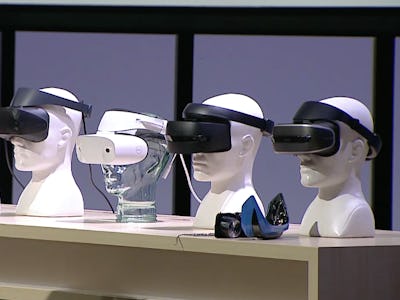 Microsoft
Microsoft has announced the date when it will take a step toward what it calls "the next evolution in human computing." On October 17, Windows Mixed Reality headsets will hit the shelves, with a range of third parties offering virtual reality sets that start from $299. Headsets with a pair of motion controllers, stick-like devices that allow users to move through the virtual world, will start at $399.
"By combining our physical and digital worlds, we believe mixed reality is the next evolution in human computing," Terry Myerson, executive vice president of the Windows and Devices Group, said during the company's IFA Berlin keynote on Friday. "Instead of reading National Geographic, you'd be experiencing National Geographic in your family room, with a full-sized sharks floating by. Instead of playing on a PC screen, you'd be experiencing Pac-Man around your house."
Unlike other headsets like the PlayStation VR, which use an external camera or external sensor to track the headset, these models contain the tracking equipment in the device itself. Acer's headset, for example, contains four cameras and an internal measurement unit for tracking the wearer's head position and mapping the virtual world onto the internal displays accordingly. HP, Lenovo, Dell, Acer and Asus are all working on headsets under the system, but Asus' headset won't launch until spring of next year.
The headsets will place the wearer into a virtual home called Cliff House. Users can pin apps to the walls, watch TV, and even load up a standard desktop to run regular applications.
"If this gets good enough one day, I could see it replicating a multi-monitor setup for when you're mobile," The Verge said in its hands-on preview.
New PC buyers will want to look out for machines that fall into one of two categories to take advantage. The first is standard Windows Mixed Reality PCs, which use integrated graphics and run at 60 frames per second. The second is Windows Mixed Reality Ultra PCs, which use discrete graphics and run at 90 frames per second. The latter will offer the smoothest picture during use.
Watch a preview video of Windows Mixed Reality here: