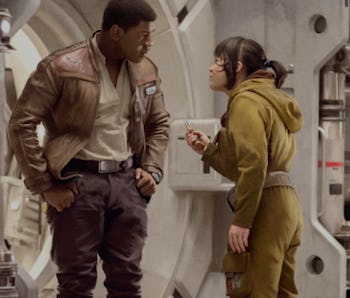 Entertainment
One New 'Last Jedi' Hero Will Have a Secret Backstory
One member of the Resistance might have a bigger secret than Star Wars fans previously believed. The mechanic Rose (Kelly Marie Tran) is sporting a mysterious necklace in a new photo from The Last Jedi, and it could indicate something big about the new character.
On Thursday, Entertainment Weekly revealed a new photo of Kelly Marie Tran as Rose and John Boyega as Finn in Star Wars: The Last Jedi. In the film, Finn and Rose are on a secret mission that involves heading to the casino planet Canto Bright, as well as infiltrating the First Order. But now, it looks like there's more to Rose than we realized. In speaking with EW, Tran commented on Rose's crescent-shaped necklace saying it is "significant to Rose's backstory."
To be clear, Rose is not rocking a Kyber crystal necklace like the one Jyn Erso had in Rogue One: A Star Wars Story. So, her secret doesn't seem to be connected to anything related to the Jedi. Unless…
Back in April, Kellie Marie Tran described Rose as being a lot like Luke Skywalker, insofar as she comes from humble beginnings and is part of a big adventure. Could it follow then that she has more in common with Luke than just that? Could the crescent-shaped necklace also have some connection to family that might be — to borrow a phrase from Finn — a big deal?
We know that Rose isn't alone in this galaxy either. Her sister Paige is also a fighter pilot for the Resistance. But, the marketing for The Last Jedi hasn't made as big of a hoopla about Paige in contrast to Rose, meaning Paige either has a small role, gets blown-away, or both sisters are involved in a cool plot twist.
To be sure, getting worked-up about Rose's necklace might not be quite enough to break open all the secrets of The Last Jedi, but the existence of the necklace does prove that this Star Wars film is still full of surprises.
Star Wars: The Last Jedi opens everywhere on December 15.