What Mark Zuckerberg Told Facebook Investors About Russian Meddling
The announcement comes after two days of congressional grilling.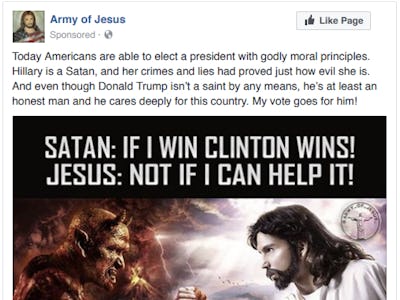 Getty Images / Paul Marotta
Facebook CEO Mark Zuckerberg took the unusual step of downplaying the company's record $10 billion revenue during Wednesday's earnings call. Instead, he focused on the steps Facebook will take to improve its security after this week's bombshell admission that 126 million people could have seen Russian disinformation during the 2016 election.
"I've expressed how upset I am that the Russians tried to use our tools to sow mistrust," an indignant Zuckerberg said during his opening remarks, his latest effort to distance himself from when he dismissed such meddling as "a pretty crazy idea" days after Donald Trump's victory. "We build these tools to help people connect and bring us closer together. They used them to try to undermine our values. What they did is wrong and we're not going to stand for it."
"What they did is wrong and we're not going to stand for it."
The timing of Facebook's third quarter earnings call was unavoidably weird. Zuckerberg and his fellow executives spoke with investors about the company's big profits mere hours after Facebook's top lawyer finished up a series of appearances before congressional committees, during which senators and representatives repeatedly blasted the company for its role in Russia's 2016 interference.
While politicians and the public may have permanently linked Facebook with fake news and electoral meddling, theoretically none of that matters in the context of an earnings call, which is all about the company's financial performance has made in the past financial quarter. But Zuckerberg addressed just why he felt moved to discuss Russia during the earnings call.
"I'm dead serious about this, and the reason I'm talking about this on our earnings call is that I've directed our teams to invest so much in security — on top of the other investments we're making — that it will significantly impact our profitability going forward, and I wanted our investors to hear that directly from me," he said. "I believe this will make our society stronger and in doing so will be good for all of us over the long term. But I want to be clear about what our priority is: Protecting our community is more important than maximizing our profits."
As for what that means concretely, Zuckerberg said Facebook will double its safety and security team from 10,000 to 20,000 in the next year. The company will also develop artificial intelligence to better detect bad actors and misinformation, along the same lines as what the company has previously used to detect terrorist propaganda. He also promised ongoing collaboration with the government.
"The first step is doing everything we can to help the US government get a complete picture of what happened," he said. "We've testified in congress over the past couple of days about the activity we found in last year's election. We're working with congress on legislation to make advertising more transparent."
Watch here as Senator John Kennedy demands to know how Facebook can possibly track all five million of its advertisers.
Congresspeople may have a different read on the company's cooperation over the last two days of committee hearings, as Facebook lawyer Colin Stretch was repeatedly criticized, even yelled at by his questioners for vague, evasive, or incomplete answers. The New York Times has also reported that lobbyists for Facebook and other tech giants like Google and Twitter are privately fighting the advertising legislation, the companies' public support notwithstanding.
After two days of taking public relations losses in the hostile territory of Capitol Hill, Zuckerberg used the earnings call to try to retake ownership of the international security controversy that has embroiled Facebook. Beyond outlining these new security measures, he attempted to recenter the conversation around building a safer internet in terms of Facebook's loftier, more abstract mission of building a global community.
"I talked about this last quarter when we changed our mission to focus on building community to bring the world closer together, and that's more important now than ever," he said. "And this gets into our roadmap for the next three, five, and 10 years."
He then proceeded to sketch out the company's main growth priorities beyond its new focus on improved security. These include the company's growing emphasis on video, a major theme of last quarter's earnings call, as well as artificial intelligence and its Oculus virtual reality system.
In terms of growth, the company reported nearly 300 million new monthly active users since the third quarter of 2016, with about 150 million of those coming from Asia and the Pacific Rim. However, the overwhelming source of Facebook's $10 billion revenue — up from $6 billion this time last year — still comes from advertising in the United States and Canada, mean Zuckerberg's pledge to change its security and vetting approach to the platform's ads in the wake of the election is indeed inextricably linked with its future profits.