This National Book Award Nominee Rebooted an '80s Halloween Classic 
Carmen Maria Machado mixes old scary stories with modern literature.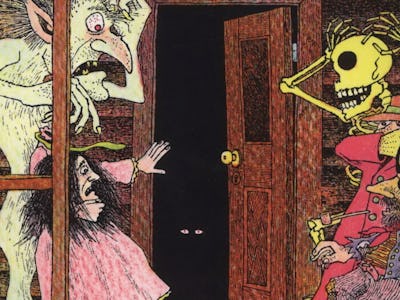 Stranger Things isn't the only cultural phenomenon dipping into the '80s for horror inspiration. Carmen Maria Machado, nominee for the 2017 National Book Awards, will remind readers of ghosts from Halloweens past. Machado's short story collection Her Body and Other Parties is a literary chimera consisting of horror, fantasy, and just a touch of sci-fi. But it's the very first story in the book, "The Husband Stich," that will transport '80s buffs back in time.
Machado says she was "obsessed" with children's horror writer Alvin Schwartz and his seminal scary storybook, In a Dark, Dark Room. While some may know Schwartz for penning several volumes of children's horror classics collectively titled Scary Stories to Tell in the Dark, it's In a Dark, Dark Room that stands out thanks to the illustrations by Dirk Zimmer. One story in particular, "The Green Ribbon," tells the tale of a man who courts and marries a woman with a green ribbon tied around her neck. Throughout their lives together, the husband, Alfred, pesters the woman about removing the ribbon from her neck, a request she denies. Creepily, when they are both considerably older, the woman allows the man to remove the ribbon, and her head promptly falls off.
"I read it as a kid, and it really stuck with me for reasons I don't completely understand," Machado tells Inverse. "When I revisited the story in grad school, I was struck by Alfred's dogged insistence and the way she relented to it at the end. I resolved to do a retelling of the story, which eventually blossomed into 'The Husband Stitch.'"
Machado's use of the "green ribbon" motif in "The Husband Stich" is deft. In the original story, the ribbon is literally keeping the woman's head on her shoulders, which has been reinterpreted as a symbol of what men may never understand about women. Machado deftly takes the homage to Schwartz a step further with the husband worrying their non-existent child being born with a ribbon. This adds a creepy realism but also gives the metaphor more life than it had as a kid's story.
The layers of this tribute also work on multiple levels. In the '80s, Schwartz used folklore and oral stories as the basis for his scary stories like "The Green Ribbon." And so, Machado connected some of those scary stories into the framework of "The Husband Stich," too. "The other urban legends from Alvin Schwartz's Scary Stories series were added to a later draft," she says. "I picked ones that specifically spoke to me as a kid and that, I thought, could be tweaked toward the story's purpose."
Machado is a writer specifically suited to transform juvenile horror and fantasy stories into high literature for adults. Prior to the publication of Her Body and Other Parties, her stories were nominated for the prestigious science fiction Nebula Award, included in The Best American Science Fiction and Fantasy, The Fairy Tale Review, and elsewhere. And the fact that the National Book Awards nominated Her Body and Other Parties in the fiction category is something of a coup. It's not often that writers with such diverse publishing background — and fantasy narratives, for that matter — make it on such a list.
Machado's biggest triumph is how she takes Halloween stories once recited spookily around a campfire as a child and turned them into real art. In other words, dressing up on Halloween and loving scary stories in 1984 could, in fact, be the basis of a writing career in 2017.
Her Body and Other Parties is out now from Greywolf Press. The National Book Awards will be held on November 15, 2017, in New York City.