Did 'Scary Stories to Tell in the Dark' Teach Kids to Fear Books? Not Exactly.
An interview with Cody Meirick, whose passion project is a documentary tribute to the most infamous children's books of the twentieth century.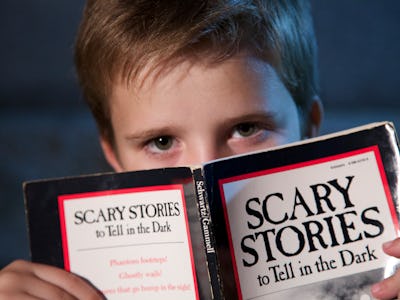 http://www.scarystoriesdoc.com/
"In all of my books what I'm doing basically is presenting adult material in a way that children can understand. Children are so sophisticated these days that it works for them . . . What fascinates me is that with the scary material, you'd think they would be jaded. But they're not. They're refreshed." — Alvin Schwartz, 1988
For decades now, the New Jersey journalist, author, and folklore obsessive Alvin Schwartz's trilogy Scary Stories to Tell in the Dark, which Guillermo del Toro now plans to adapt into a film, has frightened and intrigued elementary and middle school-aged children everywhere. Those of us who grew up in the '80s and '90s will vividly recall breathlessly flipping through the books amidst the stacks of our local library — that is, if they allowed the books in stock. The three volumes in Schwartz's series — with their decomposing ghouls, serial killers, severed limbs, and haunted landscapes — are among the most widely banned books of all time. The series ranked number one on the American Literary Society's list of the most "frequently challenged books" in the country from 1990 to 1999, and #7 in the '00s.
The strong effect of these volumes, in their early editions, was at least as much due to the spectral, charcoal-drawn illustrations by Minnesota artist Stephen Gammell as Schwartz's subject matter. The memory of Gammell's grotesque figures — from the woman with the spider's nest in her face from "The Red Spot," to the bloody head of "Me Tie Dough-Ty Walker," to the arm in "Wonderful Sausage" eating itself — is indelible to anyone who has ever even glanced through the books.
Though Random House defended the original editions for years, they republished Scary Stories on the 30th anniversary of the first volume in 2011 with new, toned-down illustrations from Brett Helquist, to the dismay of recent parents who had once been fans (just check out Amazon reviews).
It is the classic editions of the Schwartz books on which Scary Stories: A Documentary focuses. The project — currently in production — is helmed by producer, director, and narrator Cody Meirick, a Chicago-based children's development and education professional and first-time documentarian, who believes Schwartz's books are a case study for what is healthy and progressive stimulus for the young reader. Meirick's project was assisted by a crowd-funding campaign earlier this year. Though Meirick didn't reach his desired goal, he is soldiering on with production, and is aiming for a 2016 release.
Here's what Meirick had to say about his promising project.
What made you consider Schwartz's books as a subject for a documentary?
I set out to do a documentary about the importance of children's books and children's literacy. Ideally, you need an entry point. I grew up with these books just like a lot of other people. When I saw that it was a very popular book that got a lot of kids reading and interested in art — along with the fact that it is one of the most banned books of the last 30 years — it seemed like the perfect story, and the perfect title to hit home the idea that what books children read matter. Books help shape children into what they become. In this case, it got them interested in folklore and in art that naturally appealed to them. They didn't grow up to be killers or butcher people and put them into hamburgers. They grew up to be artists, musicians, historians, and writers.
One thing I find fascinating about these books as an older person — I'm just revisiting my original copies for the first time in many years — is the folklore element, and the detail with which Schwartz cited his sources in the index. He talks a lot about regional origins; for instance, "The Big Toe" developing mostly in the Southern United States. Have you delved into folklore, or talked to folklorists, much while making this film?
We have interviewed folklorists, and we plan on interviewing more. Making connections to the long history of spooky folklore is really important. I think it pays tribute to the books by putting them in context. I consider these books to be sort of the Grimm's Fairy Tales of our time. By highlighting the fact that these stories are part of our culture really hits home the fact that they are important and shouldn't be censored. I also just find it fun to make those connections and get backstory to some of the tales we all grew up with.
What is the most interesting tidbit of information you learned during the making of the documentary?
So far, there have been quite a few. I don't know if I want to give away the biggest one, and I expect there will be more to come. But one that comes to mind is alluded to in the trailer: Alvin Schwartz really loved the fact that his books were being banned. The attention to censorship within schools and libraries was just beginning to take shape around the time of his passing in the early 1990s. The American Library Association really started tracking and making lists in the mid-1980s, which was when his books began to really take off. But Alvin loved it and thought it was great publicity. That is why I'm delighted to use his book as a great example of what censorship takes away from kids.
Is there a story or couple of stories you've pinpointed as the ones that the most people mention when talking about the books?
I've actually been happy with the fact that there isn't one or two that people immediately think of. I've been surprised. People who grew up with the books assume that everyone's favorite is this one or that one, but between the stories and the illustrations, I have found that there are at least a dozen that have been cemented in people's minds over the years. Strangely, one of the most prominent ones isn't technically in the Scary Stories books. It is the ribbon story in In a Dark Dark Room, another Alvin Schwartz collection, which Barbara Schwartz (wife of Alvin) considers the 4th book. It's meant for younger readers. But that one has popped up quite a bit.
"Harold," "Wonderful Sausage," "The Babysitter," "The Big Toe," "High Beams," "The Hearse Song," "Sam's New Pet," "The Haunted House"… there are plenty that have come up and a lot of material to work with.
Have you spoken to Stephen Gammell, and any others involved with the production of the original books?
We have interviewed Barbara Schwartz, Betsy Johnson, and Daniel Schwartz (wife, daughter, and grandson of the author), and plan on interviewing more family members. We lined up an interview with Dr. Gary Alan Fine, who is a prominent folklorist and scholar, who talked with Alvin all those many years ago, and is mentioned prominently in the source material of the third book. We would like to interview editors of the books, though many of them are no longer around. It has always been important to get the inside story of these books and their history as much as possible.
As for Stephen Gammell, he has so far declined to be interviewed, and has seemingly never been interviewed. He published his own book in 2011 and it appears he didn't do a single interview for that — just a very brief video of his hand illustrating one of the characters from the book. He is the first person I reached out to and the invitation will remain out there.
Lifelong fans of the book in my general age group that I've spoken to wonder how they came about, exactly — just the choice to put these bizarre illustrations to the text. Did anyone anticipate a backlash? Can you shed some light on that?
Alvin Schwartz had final say in who illustrated his books. Stephen Gammell was a respected and prize-winning illustrator by the time the books were assembled, so he was a natural option — the publisher brought Gammell in to illustrate the books. So it appears it came about in a way that is usual when children's books are put together by a publisher. Alvin liked the illustrations very much, but it appeared that the publishers did as well. And they sold very well. The controversy seemed to only add to the popularity. It doesn't seem that anyone was too concerned at the time. You have to keep in mind that much of it didn't pick up until the 1990s after Alvin had passed away.
At what stage are you in production of the documentary?
We're about halfway done, so there is a lot more to do. Part of the reason for releasing the trailer now is to drum up support, allow us to show that there is interest in this documentary, and so we can raise the remaining funds to finish this thing.
Do you have a window for release in mind?
Each step gets us further, but at this point, I can't announce a specific time. I can point you towards a number of similar documentaries that took a couple years but eventually they completed the thing and it is now available. I'm realistic about the process, but also very committed. Barbara Schwartz remarked that she hoped we got it out by her 90th birthday. Me, I'm looking at 2016 as being the 35th anniversary, so it would be nice to finish it by then.