Marvel's Canceled Northrop Grumman Comic Leaked. It's Bad.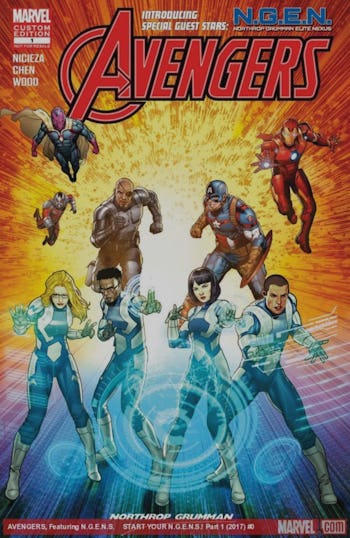 Marvel Entertainment
Earlier this month at New York Comic Con, Marvel came under hot water when the publisher announced a partnership with Northrop Grumman, the fifth-largest military defense contractor in the world. The collaboration would have included a tie-in comic in which the Avengers team up with Northrop's own superhero mascots, N.G.E.N. (pronounced like "engine.") After the backlash at Comic Con, Marvel canceled the whole thing, but the first issue of the comic has just surfaced on the internet. And, boy, it's quite something.
The comic, written by Fabian Nicieza, illustrated by Sean Chen and Walden Wood, and obtained by iO9 on Friday, is plainly-titled Avengers Featuring N.G.E.N.S. and is about as mundane as most crossovers tend to be. That's also what makes the comic pretty tone-deaf, even offensive.
This comic outright establishes N.G.E.N. (Northrop Grumman Elite Nexus, yes it's tiresome to type out) as the heroes even the Avengers call upon when they fail. The goal, of course, is to inspire kids to pursue a career in defense contracting because it's the closest thing to being a superhero, or something. Because what kid wouldn't want to be the one who helps the Avengers save the day?
Thing is, the Avengers don't exist. But their ideals do. And what sparked controversy among comic book fans at Comic Con, aside from the ethical dilemma of encouraging kids to pursue work in making missiles more effective, was that the very partnership ran counter to what characters like Tony Stark and Steve Rogers stood for. The first Iron Man movie was all about how Stark saw his war profiteering up close and sought to change things.
It's also wildly out of character, iO9 points out, that the Avengers would have the U.S. Department of Defense on speed-dial, since the Avengers have clashed with the government before. That's what makes the comic's ad pages dedicated to Northrop Grumman all the more strange.
In a statement made during Comic Con, Marvel explained that the partnership was spurred by a desire to inspire kids into STEM careers, such as in aerospace which Northrop Grumman predominantly trafficks in. But, the meaning of the message couldn't get past the optics of Marvel essentially doing military propaganda. And, heck, it's not even the good kind of propaganda like punching Hitler in the face.
See additional pages from the comic over at io9