Gal Gadot Confirms a Wonder Woman Retcon for 'Justice League'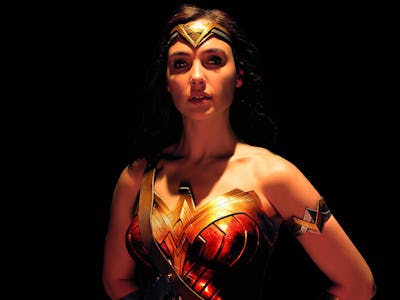 Warner Bros. Pictures
The rise of the interconnected cinematic universe requires a lot of planning, but even then there are cracks in the castle. As Justice League quickly approaches, Gal Gadot has revealed that there's been a small change to Wonder Woman and her journey in the DC cinematic universe.
At a Beijing press conference for Justice League during the film's Chinese promotional tour, which kicked off this week, Gadot revealed that Wonder Woman's feelings towards mankind were "retconned" (in comic book parlance, changed abruptly without proper set-up). In Batman v Superman: Dawn of Justice, Wonder Woman tells Batman and Superman that she walked away from mankind a century ago. But that's not what happened in her own solo film, Wonder Woman, which was easily one of the biggest movies of the summer.
"We realized that, actually, there is no way that Wonder Woman will ever give up on mankind," Gadot said at a press conference. "The reason why she left the island was because she wanted to make their life better and safer. They are her calling. So, I'm giving you a very honest answer: Sometimes, in a creative process, you establish something that is not necessarily the right decision, but then you can always correct it and change it. So Wonder Woman will always be there as far as she concerns for mankind."
It's a big character-based change to be sure, but it's nothing terribly drastic as far as mainstream audiences are concerned. With Wonder Woman forming the Justice League with Batman, of course, the Amazonian would come around to mankind eventually. But it is nice to see that even the small details in this big universe are acknowledged.
See Gadot at the press conference below.
Justice League will be released on November 17.
If you liked this article, check out this video where the stars from Professor Marston and the Wonder Woman talk about how psychology helped created Wonder Woman.