A 'Thor: Ragnarok' History Lesson Ends in Disaster in New Marvel Clip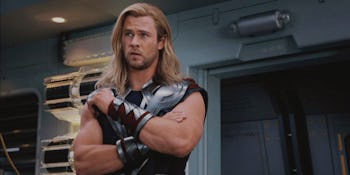 Marvel Studios
Chris Hemsworth, Thor himself, offers up a goofy history lesson in a new video from Marvel so we can understand more of what Thor: Ragnarok is about, but after Cate Blanchett dominates the scene, things take a disastrous turn. Sounds a bit like the plot to this latest Thor movie, doesn't it?
In "What's a Ragnarok? with Chris Hemsworth," the actor notes that "to understand the meaning of Ragnarok, one must look deep into Norse mythology." Before he can get too deep talking about how the mythical tree Yggdrasil connects the nine realms, Mark Ruffalo interrupts him in his polite Bruce Banner way. Ruffalo assures him, "Cate's really really good at this…"
Cate Blanchett, who plays Hela in the movie, then takes over with a bright voice — that grows gradually darker — to explain all sorts of things that Ragnarok "means." Things sort of end in disaster, and all Thor can say is, "That was so intense."
Check out the odd but really fun clip below:
The whole thing feels almost like we're watching the comical version of the Norse god that starred in those fun Team Thor short videos. Remember how Thor gets a human roommate named Darryl? If the actors can have this much fun doing promotional bits for Thor: Ragnarok, then maybe the film will be just as fun.
The whole tone they play with, putting Blanchett's acting and vocal ranges on display echoes her "Motivational Message" from Monday:
We're still not sure what a Ragnarok is, but we don't have much longer to wait before we find out.
Thor: Ragnarok hits theaters November 3, 2017.