Marvel's Not Flogging Movies at Comic-Con. Is DC Ready for Its Close-Up?
Your time to shine, Justice League.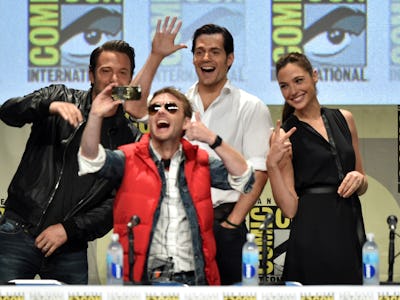 The biggest name in comics movies is skipping the biggest stage in the biz. Marvel won't go through the dog-and-pony rituals to flog its films at San Diego Comic-Con in July, essentially because, for once, there's not a whole lot immediately coming down the pipes. This ostensibly cedes the comics-fanboy space to DC … which happens to have more projects to ballyhoo than ever before.
DC parent company Warner Bros. is apparently set to go gangbusters on the San Diego Convention Center's iconic Hall H, with Batman v. Superman: Dawn of Justice, the much-anticipated Suicide Squad, Justice League, and Wonder Woman. Marvel by contrast seems to be taking a breather after watching Avengers: Age of Ultron scoot past $1.35 billion worldwide. Ant-Man hits theaters just a few short weeks after the convention, but what else is Marvel juggling? Captain America: Civil War just started production, and they haven't decided yet which new same-old white kid will play the next Spider-Man. 
Marvel bowing out is also helping family. Disney, Marvel's parent company, is practically taking over Comic-Con with its other blockbuster property, five months before Star Wars: The Force Awakens hits theaters. No sense in half-assing a Marvel presentation when there are storm troopers to ogle: 
Marvel will have its day. Disney's D23 conference in August will allow Marvel to easily top the Comic-Con cacophony. Don't be surprised if that is when the world meets the new Peter Parker. Or anything, really.