5 Reasons Whitefish, Montana, Has Been in the News in 2017
The sleepy ski resort has been the center of some big stories this year.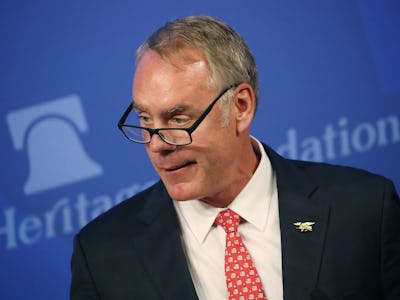 Getty Images / Mark Wilson
The town of Whitefish, Montana, has had a big 2017, but maybe not a good 2017, as the burg of just more than 7,200 nestled in the northern part of Montana has been at the center of neo-Nazi stories and now a government contract that "raises numerous questions," in the words of a congressional committee spokesperson. In the presidential election in Flathead County, where Whitefish is based, Donald Trump received 63.7 percent of the vote, Hillary Clinton received 28 percent, and Libertarian Gary Johnson received 4.6 percent of the vote.
Here's a rundown of the year in Whitefish-in-the-news:
5. January: The ski resort town of Whitefish finds itself in the wake of a Nazi punching incident. Its most infamous part-time resident, Richard Spencer — who had in December told Vice News' Elle Reeve that "we memed the alt-right into existence" — brought his fight back home from D.C. Neo-Nazis on the internet did their best to dox (expose personal information) people in Whitefish who opposed Spencer's views, The Guardian reported. "I didn't move to Whitefish for politics. I don't take part in local (Whitefish) politics," said Spencer after neo-Nazis doxed Jewish people who lived there.
4. February: *BuzzFeed's Anne Helen Petersen went to Whitefish to investigate "deep-rooted intolerance" there and the fact it had become a destination for "neo-Nazis and fascists." The town library has hosted Holocaust denial films and is home to de facto white supremacist/"alt right" mascot Spencer. Go read Petersen's deep-dive into Whitefish right now to understand more about the town: "Neo-Nazis Came for This Small Town. Can You Keep Them From Coming for Yours?"
3. March: President Donald Trump tapped Montana Congressman Ryan Zinke, who was raised in Whitefish, to be the nation's next Secretary of the Interior, responsible for management of federal land and natural resources. He was nominated by Trump in December. "I am honored and humbled to be asked to serve Montana and America as Secretary of Interior," Zinke wrote in an email to the press.
2. September 28: Politico reported that Zinke and his aides took several flights on private aircraft or military aircraft, " including a $12,000 charter plane to take him to events in his hometown in Montana and private flights between two Caribbean islands, according to documents and a department spokeswoman." Zinke and several of his staff members reportedly traveled on a Beechcraft King Air 200 plane from Las Vegas to Glacier Park International Airport in Kalispell, Montana, which is 16-minute drive from Whitefish.
1. Also September: Whitefish Energy, a two-year-old electrical company with two full-time employees was awarded a $300 million contract to restore electricity infrastructure in hurricane-ravaged Puerto Rico, which raised eyebrows for how the deal came together. "All I can say is, we took the call and we're here," Whitefish Energy CEO Andy Techmanski told CNN last week. (Whitefish Energy employs more than 275 subcontractors in Puerto Rico.) "The size and unknown details of this contract raises numerous questions," said Parish Braden, a spokesperson for the House Committee on Natural Resources. Work on the project could last up to two years.