How Whitefish Energy Got $300 Million to Restore Puerto Rico Electricity
All you have to do is call, apparently.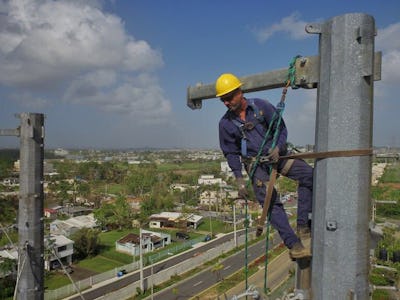 Twitter
Before landing a $300 million contract with Puerto Rico to bring back the island's electricity after Hurricane Maria destroyed its power infrastructure, Whitefish Energy had just two full-time employees, and, notably, coincidentally, was based in the same small Montana Town of Whitefish (pop. 7,279) as the country's new Secretary of the Interior (and Big Buck Hunter enthusiast) Ryan Zinke.
There was no open bidding for the massive rebuilding deal, and offers of mutual aid went unanswered by Richard Ramos, the executive director of the PREPA, which is Puerto Rico's stated-owned power authority. Instead, Whitefish CEO Andy Techmanski says the massive deal for the two-year-old company came together with a phone call.
"All I can say is, we took the call and we're here," Techmanski told CNN on Friday.
The office of Zinke, chosen by President Donald Trump to run the Department of the Interior, told the Washington Post that the Secretary had nothing to do with the deal. The Post reports that Zinke's son worked for a summer for Whitefish Energy as a flagger. The coincidence is being viewed as surprising in news reports.
It's also raising concern in Washington: "The size and unknown details of this contract raises numerous questions," said Parish Braden, a spokesperson for the House Committee on Natural Resources.
Hurricane Maria hit Puerto Rico on September 20, knocking out 80 percent of the island's power. Whitefish Energy is tasked with rebuilding 100 miles of transmission lines, reported The Spokesman-Review. Techmanski told CNN that his company has experience in repairing power lines in hilly, mountainous terrain like you'll find in Puerto Rico, making it more qualified that other companies.
So how did the the tiny Whitefish Energy company get the deal? That remains unclear. Usually in cases like this, a "mutual aid" system is put to use where utility companies in neighboring regions send in support to get the power back on, the Post reports, and in return the affected state will return the favor when the time comes.
"PREPA forgoes mutual aid, opting for little-known contractor," was the headline in Utility Dive, a trade publication.
Yet, Whitefish Energy is a for-profit company that got the contract in part because Techmanski says he had been going over contingency plans — "what if" scenarios" — in the event a hurricane would hit the island, some two weeks before Maria hit.
"Whitefish entered PREPA's orbit during the interval between Irma and Maria, the two hurricanes that lashed Puerto Rico this season. Ramos said that it put out a request for repairs to its transmission lines after Irma and that Whitefish was one of only two mainland companies that responded," reported another trade publication E&E News.
Whitefish Energy employs about 280 subcontractors on the island, a number that grows by up to 20 people a day, the Post reports. The $300 million could be paid out over two years of work, reports the Post.
Puerto Rican officials say they hope to have 95 percent of power restored by Christmas.
"We plan to be here until everyone has power," said Jay Bartlett, a subcontractor, in a video posted to the Whitefish Energy Twitter account.
If you liked this article, check out this video about an energy capture device that can make electricity from slow moving water.