Self-Driving Transit Will Fix the Absolute Worst Part of a Commute
Here's how to make the first and last mile of a commute suck less.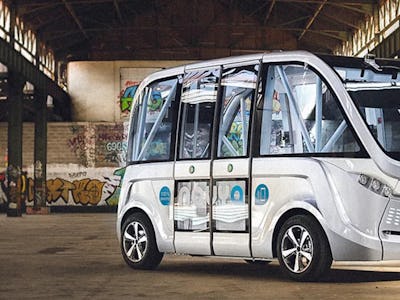 A new survey by shows that 38 international cities are ready to host self-driving vehicles to help solve the "last mile" transit problem that makes public transportation good — but not good enough — for many in cities around the world. Anyone who's walked a mile to the subway or the right bus stop to begin and end their commute knows this problem well. In a word, the "last mile," well, sucks.
The "last mile" problem is one where public transportation could theoretically move people most of the way to and from work, but the first and last miles of their journey are sometimes a mile or more, so they opt to drive themselves instead, creating traffic congestion, grid lock, pollution, and missed morning meetings.
But solving the "last mile" problem would be "low hanging fruit" for autonomous vehicles — like self-driving buses or commuter vans — that can pick up and drop off commuters, says Dr. Junfeng Jiao Director of the Urban Information Lab at UT School of Architecture's Community and Regional Planning department.
Bloomberg Philanthropies' Aspen Institute conducted the recent cities survey and released the results on Monday. Bloomberg Philanthropies examined the cities that are piloting autonomous vehicle programs or working on legislation to enable self-driving vehicles. "The most common anticipated role for [autonomous vehicles] is bridging existing gaps at the edges of transit systems, a crucial link that planners call the 'last mile,'" the researchers write. "Almost every city indicated interest in using AVs for last-mile solutions, and for a majority of cities it was the highest priority."
"AVs are coming whether we want it or not."
"AVs are coming whether we want it or not," Jiao tells Inverse. "I expect it will play a major role to solve transit problems in these cities, but while most of these governments are looking to link a running fleet with existing infrastructure, it's not the only thing private AV startups are interested in."
Shared Autonomous Vehicles — basically shared riders minus the driver — will be used to not only get to mass transit hubs, but take riders from Point A to Point B more efficiently. Making them both complementary and competitive to existing public transportation.
"These are opportunities for government to use SAVs as a new form of transportation as opposed to a 'last mile,'" Jiao said.
With the cost of operating traditional public transit infrastructure, SAVs are a chance to leave a new type of a transit solution for the next generation, Jiao says.
Another concern the cities bring up in the survey is the lack of funding, a problem that will need the investment from both policymakers and the tech industry to solve.
With SAVs promising to help with parking reduction and decentralizing industrial hubs by reducing commute times, Jiao stressed that now is the time to invest in the city and suburban scapes' future real estate.
While city officials across the world are just beginning to wrap their heads around AVs, experts like Jiao believe that if they're going to implement driverless cars, they may as well assure they're cutting emissions.
"Electric SAVs will solve two problems: the environmental one and the transit one."
If you liked this article, check out this video of an autonomous Airbus concept vehicle that is half-drone, half-car.