'Stranger Things' Season 2 Has a Slender, Creepy Creature
It's the creepiest part of a teaser video that was released on Friday.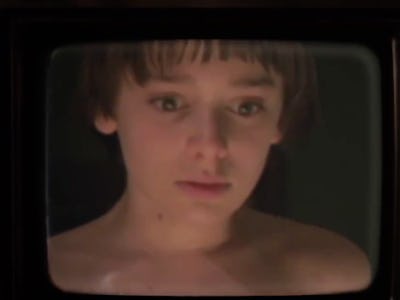 Netflix
According to everyone's favorite teacher Mr. Clarke, fear is the body's natural response to danger. A teaser for Stranger Things Season 2 hints at just how scared everyone in Hawkins, Indiana, should be about the strange things going on in their sleepy little town.
The new teaser smashes together a lot of Stranger Things content with 1980s-styled commercials and programs. Hidden in the footage is a nod to Sadie Sink's character Max (she holds some of the highest scores at the local arcade, it seems), "the future" of viewing in the form of new VHS tapes, concerning home movie-style footage of Joyce (Winona Ryder) and Will Byers (Noah Schnapp) in various states of distress, Chief Hopper (David Harbour) inspecting the local case of the rotting pumpkins, and a special cameo from Mr. Clarke (Randy Havens).
And notably, what in the world is this bizarre creature that walks across the screen in this video? It's by far the most chilling scene in the teaser that was shared on the Stranger Things Twitter account on Friday. We've cut it from the video and put in GIF form for you to watch over and over:
The classic arcade games that pop up are probably a solid hint at what to expect from Season 2; Dig Dug comes up a couple of times, emphasizing imagery of destruction and… persevering? Unfortunately, we'll probably have to wait for Season 2 to premiere to really understand what all of this is hinting at. And, even if that doesn't work, then at least you can be reassured Season 2 will go even more in on the 1980s nostalgia that's driven the show's popularity.
Stranger Things Season 2 premieres on Netflix on October 27.