The Upside Down Literally Births Eleven in New 'Stranger Things 2' Clip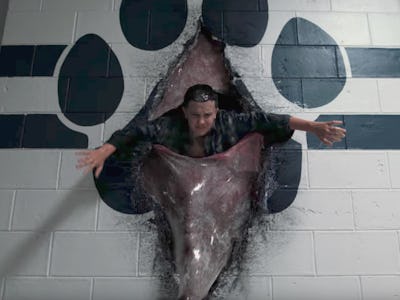 Netflix
Eleven's epic escape from the Upside Down after she defeated the Demogorgon in Stranger Things Season 1 involved tearing down a wall brick-by-brick. A new clip for Stranger Things Season 2 reveals that she used her powers to help her out, and that the Duffer Brothers really enjoy rebirth metaphors.
The clip premiered online on Monday as a special message for Stranger Things fans at Comic-Con London. Eleven actor Millie Bobby Brown, who won't be able to attend London's con over the final weekend of October, introduced the clip as a special treat.
In the 1 minute-long video, Eleven (Brown) approaches a neon-pink wall, the familiar spores from the Upside Down floating ominously around her. She reaches through a small hole in the wall that's covered in the Upside Down's characteristic slime and muck, only to end up with her hand back in the real world. From there, she uses her abilities to tear down the bricks of the wall to make a larger hole for her to sneak through. The escape is alarmingly reminiscent of a birth scene, with the hole resembling a vagina.
All the while, a monster growls and rumbles in the background.
Eleven's look in the clip — shaved head, wearing the same pink dress and blue windbreaker from the Season 1 finale — implies that this is Eleven's initial escape from the Upside Down. Other footage from Season 2 has shown Eleven with a headful of cute curls, totally new threads, and stealing away with Chief Hopper's (David Harbour) Eggos offering in the woods. All of this indicates that this newly revealed scene is either a flashback to Eleven's escape, or that fans will get to see her escape from her prison in the Upside Down in real time.
Either way, we just hope she'll be okay throughout the entirety of Season 2.
Stranger Things Season 2 premieres on Netflix on October 27.
If you liked this article, check out this video of an 8-bit Stranger Things game.