5 Geeky DIY Halloween Costumes for Dudes With Beards
May the beard be with you.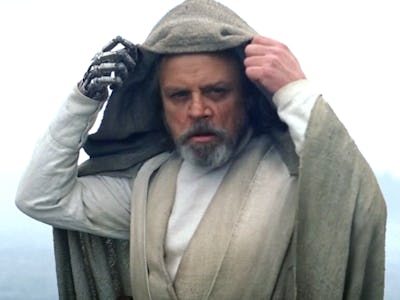 Some successful Halloween costumes are more about your face than what you're actually wearing. For the bearded, this can give you a significant advantage in the last-minute Halloween costume department. When you rock a beard-centric costume, most of the work is already done ahead of time. Step one, have a beard. DONE. Sure, you may need to trim your existing beard to match-up more specifically with the bearded characters on this list, but after that, the rest of the accessories aren't that tough.
Here are five beard-reliant Halloween costume recipes, each for under 50 bucks.
5. Thor From Thor Ragnarok
This costume is more about your face and haircut than anything else. If you want to buy a Thor hammer and armor, that's fine. But keep in mind, Thor doesn't have his hammer for the majority of Ragnarok, meaning you can totally rock the costume without it. If you want to go the Amazon route, there are easy pre-made costumes available.
If you're feeling resourceful, grab a red cape, some face paint and fashion yourself some armor out of brown construction paper and duct tape.
Basic Face Paint Kit: $4.99 at Party City
Red Cape: $9.98 on Amazon Prime
Hair Clippers to Get That New Thor Trim: $34.99 at JC Penny
4. Luke Skywalker From The Force Awakens and The Last Jedi
If you already have a beard that's a little on the bushy side of the Force, doing an approximation of Luke Skywalker in The Force Awakens and The Last Jedi is pretty easy. Just get a bathrobe and a cheap lightsaber.
Hooded White Bathrobe: 24.95 on Ebay
Anakin Skywalker Lightsaber (close enough!) From Rubies Halloween: 12.95
3. Rick from The Walking Dead
Rick is pretty easy to do. We would recommend going without the gun, which means all you need a button-up shirt, a greying beard, and some greasy hair.
Grey Button-Down Shirt With Two Pockets: $19.99 From Full Source
2. Bearded Captain America from Avengers: Infinity War
As you may or may not be aware, the squeaky-clean Steve Rogers — AKA Captain America — will be rocking a more grizzled look in the next big Marvel movie. You don't have to wear Cap's armor to make this one work. If you've already got the bushy beard, just buy a very inexpensive shirt with Captain America's logo on it and you're all set.
Captain America Logo T-Shirt: $12.99 at Old Navy**
1. Casual Riker from Star Trek: The Next Generation
The greatest beard in all of science fiction and fantasy remains that of Commander William Riker from Star Trek: The Next Generation. But, for Halloween, who wants to actually wear that Starfleet jumpsuit? Instead, you can get creative and go as casual Riker. In the episode "Ménage à Troi," Riker wears a silky blue number with grey slacks.
Blue Silk Shirt: $20.17 at Ali Express
Grey Slacks: $8.98 at Target
Read Next: Here is 2017's Most Controversial Halloween Costume