Tesla Is Getting Ready to Fill in the Missing Piece of Its Electric Empire
The car maker's service vans will get an electric refitting to match Tesla's range.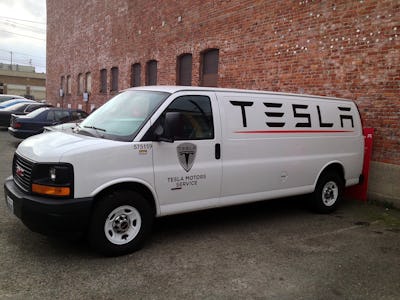 Flickr / JoeInSouthernCA
It took them some time, but Tesla's dedication to electric has finally trickled down to their service vans.
As Electrik reports, the car maker is set to unveil an all-electric service vehicle based on their ever-popular Model S and Model X, keeping their eco-friendly branding consistent.
Per Jon McNeill, Tesla's President of Global Sales and Services, the vans — which have been on the road for some time helping Tesla owners with on-site service — are getting a major facelift in the near future.
"We didn't think that it was very cool to show up to fix an electric vehicle with a combustion engine van," McNeill said. "It really bugged us. Some really savvy technicians on our team figured out how to retrofit Model X to fit all the tooling and parts needed to do service."
The vans are meant to act as a service garage on wheels, and are specifically located in areas populated by Model 3 preorder customers. Tesla claims these service "centers" are not only way faster than traditional repair shops, but they also take up three times less space.
This isn't the first time the famed Model S has been refitted into an oversized vehicle. Last year, the S was "stretched" into a limo by a novelty limo company
Aside from "leading by example" purposes, the newly-planned vehicles will also be an important part of Tesla's future service strategy, considering that's an area they're currently trying to beef up. Given that the company recently announced the addition of 1,400 technicians and 350 new service vans, the new retrofit is a timely move.
Let's just hope all the mobile repair shop's existing features, including those espresso machines, make it onto the new electric versions of the service vans.
Is the Tesla roof worth the cost? Check out this video to find out.