'Justice League' Still Won't Show Superman, Could Be Hinting at a Twist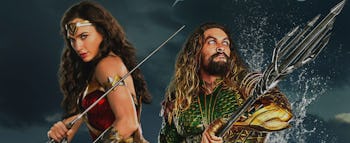 Warner Bros.
Superman is all but confirmed to be in Justice League, but Warner Bros. continues to play coy about his involvement in the film. The latest poster for Justice League once again features every Leaguer, save for Superman.
On Wednesday, the Justice League UK Twitter account released a new poster for the superhero team-up, showcasing every one of the film's heroes who have been revealed except Superman. This continues the odd trend of keeping Superman out of most of the film's primary marketing, aside from a brief appearance in Lois Lane's dream in the latest trailer and a photo released during San Diego Comic-Con in 2016.
Superficially, this all seems pretty unnecessary. Superman's return from the grave was teased at the end of Batman v Superman, and Superman actor Henry Cavill took to Instagram on July 26 to talk about doing Justice League reshoots while addressing if he was going to have his mustache shaved for the film. Whether he's actually alive, in dreams, or only present in flashbacks, Superman is in the film.
Given that there's a high chance that he is indeed alive, though, it could be that they're witholding Superman because his appearance is kind of a spoiler, in that he isn't going to be one of the good guys for the entire film. Speaking to Billboard in an interview that was posted on September 28, composer Danny Elfman said:
I instated a moment of the Wonder Woman theme that Hans Zimmer did for Batman Vs. Superman, but I also had two minutes where I had the pleasure of saying, "Let's do John Williams' Superman." and that for me was heaven, because now I have a melody to twist, and I'm using it in an actually very dark way, in a dark moment. It's the kind of thing that some fans will notice. Some won't. It's a moment where we're really not sure whose side he's on.
If Superman is wearing the black suit in the film like he's rumored to be, this would add dark meaning to something that was originally used simply to heal him following his bout with Doomsday in the "Death and Return of Superman" storyline.
In the event that the Superman reveal reveal reveal isome kind of spoiler, hopefully they can hold off on showing it before the film hits theaterhopefully they can hold off on showing it before the film hits theaterhopefully they can hold off on showing it before the film hits theaters.
Justice League is set to be released in the US on November 17.