'Justice League': New Evidence Superman Will Have His Black Suit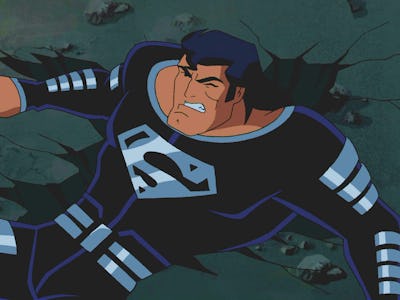 Warner Bros.
It's looking increasingly likely that when Superman inevitably makes his return in Justice League, he's not going to be wearing his traditional red and blue suit.
On Monday, news started circulating that the site SuperHeroStuff was selling a black hat modeled after Superman's appearance in Justice League, and that the posting revealed why Superman is wearing the black suit in the film. Sure enough, the black hat is "Based on Superman's newly-resurrected appearance in the hit film, 'Justice League'," and the suit is "A black variation of the Superman suit adorned during his time in the regeneration matrix, a Kryptonian chamber that reversed the previously lethal effects of his protracted punch-em-up with Doomsday."
If this is how the black suit factors into Justice League, it would be incredibly similar to how it functioned in the original "Death and Return of Superman" storyline, where it was used to heal Superman following his brutal fight with Doomsday. Given the affinity of Justice League's officially listed director, Zack Snyder, for following the source material, this seems likely. even if the hat isn't the most compelling evidence that the black suit will show up in the film.
Like the return of Superman himself, the fact that he's probably going to be wearing the black suit when he comes back hasn't exactly been held close to the chest. Superman actor Henry Cavill previously posted an image of a black-filtered, or black, Superman suit to Instagram. And black-suited Superman has shown up in a toy listing for the upcoming film, though spoilers/rumors via toys aren't always reliable.
Since Batman v Superman already made it clear that Superman would return, it's probably being taken as a given by most, including departments that aren't necessarily under the control of Warner Bros., that Superman has to come back with the help of the black suit. In any case, hopefully the real surprises are being saved for when the film's actually out in theaters.
Justice League opens in the U.S. on November 17.
If you liked this article, check out this video that reveals another reason for Bruce Wayne becoming Batman.