A Surprise 'Justice League' Hero Might've Been Spoiled by 'Big Bang Theory'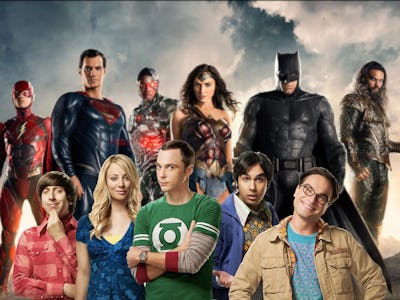 CBS, DC Entertainment
A group of nerds masquerading as superheroes might have ruined the big twist in Justice League. A promotion between The Big Bang Theory and Justice League to win a trip to the movie's premiere might have spoiled a huge, rumored cameo.
As pointed out by Reddit user MuzzledPenguin on Monday, a video for the promotion includes every JL insignia — and the insignia of the Green Lantern.
Green Lantern's involvement (maybe even more than one Lantern) in Justice League isn't exactly a new rumor. San Diego Comic-Con 2017 was rife with hints that at least one Lantern would make a cameo, similarly to Wonder Woman's (Gal Gadot) time in Batman v. Superman: Dawn of Justice. Superman actor Henry Cavill has been dropping hint after hint that a Lantern will jump in.
DC, for the most part, has kept actual confirmation of a Lantern's potential involvement totally under wraps — nothing has ever been officially confirmed despite the mountain of evidence to the contrary. This Big Bang Theory promo has only added another solid piece of evidence, perhaps one of the most legit ones yet.
The Green Lantern insignia seen in the promo is redesigned to fit in with the DCEU's other sleek reimaginings of classic DC insignias. And its inclusion along with the other JL members' symbols, as well as the JL symbol itself, almost feels like real, firm proof that the Lanterns will make at least one cameo.
In other words, "bazinga!"
Justice League premieres in theaters on November 17.
If you liked this article, check out this video that reveals another reason for why Bruce Wayne became Batman.