DC Comic-Con Panel Encourages Green Lantern Cameo Rumors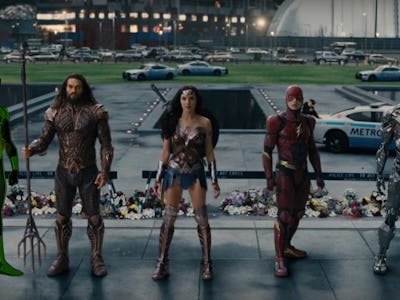 DC Entertainment
Earth is sorely without any Green Lanterns to protect it from Steppenwolf in the upcoming Justice League, as the villain points out in the film's new San Diego Comic-Con trailer. "No protectors here," Steppenwolf says. "No Lanterns, no Kryptonians; this world will fall like the others."
And while Superman isn't only rumored but expected to show up in Justice League to help Wonder Woman, Batman, Aquaman, Flash, and Cyborg save the world, there have also been whispers of one or more Green Lanterns showing up just in time a la Wonder Woman in Batman v. Superman.
David S. Goyer (The Dark Knight, Man of Steel) is expected to pen the script for an upcoming Green Lanterns standalone film starring Hal Jordan and John Stewart, two of Earth's famed Lanterns and members of the Justice League in DC's comics. And much like Wonder Woman's cameo in BvS, it would make sense for the Lanterns to drop in for DC to test audiences' reactions to the heroes before releasing a full-length film.
Steppenwolf's insistence that there aren't any Lanterns or Kryptonians to protect Earth when just about everyone knows Superman will, in fact, return from the dead hints that the Lanterns will follow in the same manner. Imagine the look on Steppenwolf's face for the final battle.
The imagery at SDCC for the Justice League also indicated that Lanterns might be showing up, with every DCEU-style JL member making an appearance on an enormous poster. It just so happens that there's a Lantern (who looks a lot like Hal Jordan) in the background.
And Superman actor Henry Cavill certainly hasn't been helping matters, trolling fans on Instagram with Lantern jokes, imagery, and shirts.
But fans will probably have to wait until the film premieres to find out whether or not the rumors and hints really mean anything.
Justice League premieres in theaters on November 17.