See the Most Popular Halloween Candy in Every State With This Map
Really, Montana? You buy Dubble Bubble Gum on Halloween?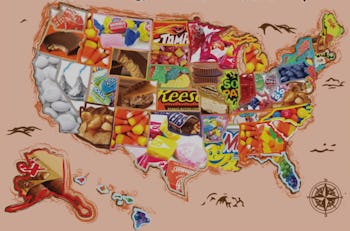 Candystore.com
If you live in Louisiana, don't be surprised if you find more Lemonheads in your trick-or-treat bags than any other Halloween candy.
This interactive map, created by bulk candy retailer Candystore.com, shows the most popular Halloween candy sold in each state. The company designed the colorful, sugar-filled map with data collected since 2007 on candy sales in the months leading up to Halloween.
Candy corn came out as the crowd favorite, with six states favoring the hotly debated candy. If knowing the most popular Halloween candy in each state isn't enough, you can see each state's top three picks on the website.
America is expected to spend almost $3 billion on Halloween candy this year, according to estimates from the National Retail Federation. In total, about $9.1 billion this year will go into Halloween costumes, decorations, and other related festivities. That's a huge increase from 2016's $8.4 billion spending estimate.
See where your state stands, and whether the No. 1 selling candy comes as a surprise:
Candystore.com published the various data they used for the map, which means other information about each state's candy intake is available — and interesting. Which state has bought the greatest amount of candy over the past 10 years? The answer is Texas, who has bought almost 200,000 pounds of their favorite candy, Starbursts (and Reese's Cups, coming in close at No. 2). Connecticut was at the other end of the extreme, only buying 2,457 pounds of Almond Joy, their most popular Halloween candy.
Nestle has found a way to use less sugar in chocolate without affecting the taste. Check out this video to find out how.