Why Was Facebook and Instagram Down Today?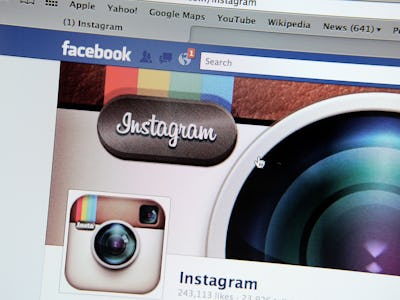 Getty Images / Justin Sullivan
If you realized that your favorite social networks were down while trying to access them earlier today, you're not alone.
According to website tracker Down Detector, thousands of people reported problems accessing Facebook and its subsidiary Instagram during the same general timeframe on Wednesday. The severity of the service interruptions varied across users, but affected those on both mobile and web browsers.
Some Twitter users reported Facebook showing them messages that mentioned "required maintenance" while others reported that they were unable to access these sites altogether. Reports from the UK-based Independent also claim that some users could only load certain functions on the app or in their web browsers, or that the site's function appeared normal until an attempt to post was made.
While the majority of the issues appear to have been reported U.S.-based Facebook users, some reports came from South America, the U.K., Europe, and Turkey as well.
By now, the problems seem to have been resolved so that you can commence posting political rants or sharing photos of your dog without interruption. According to The Guardian, the outages lasted for approximately two hours. But the question remains — what caused these issues to begin with?
So far, Instagram and Facebook have remained largely tight-lipped about the cause. An initial statement made to several media outlets earlier in the day that acknowledged "some people are currently having trouble accessing Facebook and Instagram" was followed by slightly more specific elaboration that a "networking issue" was to blame.
So far, there's nothing that outright indicates the issue was the result of something done by a third party.
In the past, Facebook has been more transparent about major outages. Back in 2010, Facebook engineer Robert Johnson shared a detailed, technical explanation on why service was interrupted for many users for about 2.5 hours — the worst the company had experienced in over four years at that point. Essentially, Johnson concluded that it was caused by internal issues rather than anything like a cyberattack. In 2015, the company explained an hourlong outage as being the result of something that "occurred after we introduced a change that affected our configuration systems."
Press representatives at Facebook (which has owned Instagram since 2012) did not respond to requests for comment from Inverse.