Elon Musk Just Pushed Back Big Reveal for Tesla's Electric Truck
It should be worth the wait.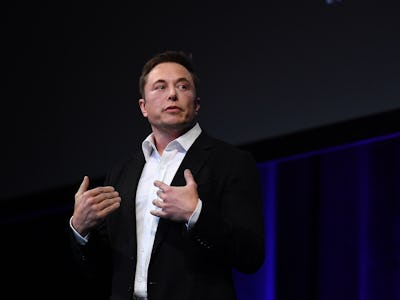 Getty Images / Mark Brake
Tesla chief Elon Musk tweeted Friday afternoon that the company is pushing back the reveal of its hotly anticipated new vehicle, the Tesla Semi. The electric truck was previously slated to be unveiled at the end of October, but Musk says it's now going to be unveiled on November 16.
In the tweet, Musk attributed the pushback to a need to divert resources toward the Model 3, as well as to ramp up battery production to aid relief efforts in Puerto Rico.
This announcement may tie in with Musk's recent interactions with Puerto Rico Governor Ricardo Rossello, who reached out to Musk to follow up on the Tesla head's tweet that the company could help rebuild the island's hurricane-ravaged energy grid. The two made plans on Twitter for a call later today to discuss potential relief efforts — this tweet could be the first indication that Tesla is indeed getting more involved in helping Puerto Rico. In a follow-up tweet, Musk said power for medical equipment would take priority.
In another reply, Musk did at least leave those waiting on the reveal of the Tesla Semi with a couple more tantalizing hints about what to expect when the big day does finally arrive.
If you liked this article, check out this video on how Elon Musk became so popular.