Elon Musk Says Tesla Can Rebuild Puerto Rico's Hurricane-Ravaged Grid  
The Tesla head says he is ready to help.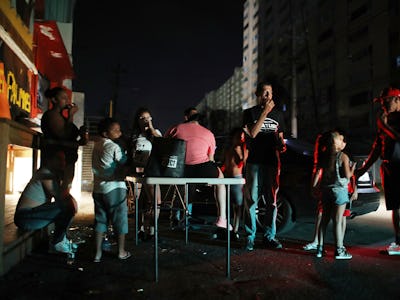 Getty Images / Joe Raedle
Puerto Rico is looking at anywhere from four to six months without power in the wake of Hurricane Maria. While it will take that long just to rebuild Puerto Rico's existing energy grid, there's also the potential to build something that can better withstand the inevitable next hurricane. Elon Musk officially volunteered Tesla for the job Wednesday.
Tesla has already shipped hundreds of its Powerwall batteries to the island, with the company's employees on site to help with installations. But Musk said the company could undertake a more ambitious plan to rebuild Puerto Rico with grid-independent solar and battery systems.
As Musk explained, Tesla has already installed such solar microgrids on five islands: Ta'u in American Samoa, Malolo island in Fiji, Ocracoke Island in North Carolina, and Hawaii's Kauai and Ohau. Together, these five islands represent more than a third of Tesla's total deployed power storage capacity as of this May. Of these, Kauai is the biggest and has the greatest power consumption needs — the company's 13-megawatt solar farm is able to produce roughly a tenth of the island's total energy output.
When looking at Puerto Rico, this is where Musk's assertion that "there is no scalability limit" would be put to one hell of a test. Kauai has a population of 65,000, while Puerto Rico is home to 3.5 million people. Kauai's energy output averages around 125 megawatts, while Puerto Rico's total energy capacity is closer to 5,000 megawatts. Overhauling the island's energy grid isn't impossible — indeed, there's no alternative in the wake of Hurricane Maria's damage — but this would be way beyond what Tesla has so far demonstrated the ability to do.
In fairness to Musk, he made the statement in response to a specific question about what Tesla could do for Puerto Rico, and he made no claim that this could be an immediate or even near-term solution. A big reason Puerto Rico will likely be without power for months is it's so difficult logistically to transport the necessary materials and workers to the island to go make repairs, and that would also apply to any large-scale effort from Tesla — or anyone else, for that matter — to transform Puerto Rico's grid into something new.
If you liked this article, check out this video of an island that is completely solar powered, thanks to Tesla.