Tesla May Have to Ditch the Steering Wheel for a Legal Reason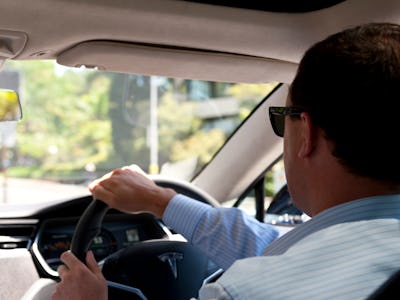 Flickr / Jeremy Buckingham MLC
A new study on the effects of autonomous cars law might spell bad news for Tesla.
Australia's National Transport Commission, an independent advisory body, released a report this week that advocated for changes to allow drunk people to operate self-driving vehicles in certain conditions. The report, however, states that this should not extend to autonomous cars with a steering wheel, a rule that would stop Tesla drivers from making the most of the technology when it's rolled out to existing owners.
"One potential barrier to receiving the full benefits of automated vehicles would be to require occupants of automated vehicles, who are not driving, to comply with drink-driving laws," the report said. "This would create a barrier to using a vehicle to safely drive home after drinking. Enabling people to use an automated vehicle to drive them home despite having consumed alcohol has the potential to improve road safety outcomes by reducing the incidence of drink-driving."
Tesla, which is currently developing its Autopilot semi-autonomous system, plans to upgrade existing cars to full autonomy via software updates. The company wants to enable full cross-country autonomous road trips by the end of the year, but it's unclear whether it will achieve this goal.
Tesla's implementation of upgrading existing cars means it would still fall foul of regulations, though. The report does not advocate for autonomous drunk-driving if there's the possibility that a human driver may take over, as that suggests the user may have the intention of driving.
"The NTC considers that there should be clear exemptions from the drink- and drug-driving offences concerning starting a vehicle and being in charge of a vehicle for a person who starts, or who is a passenger in, a dedicated automated vehicle," the report said. "There is no possibility that a human could drive a dedicated automated vehicle so there is no safety risk associated with drink driving."
The NTC's recommendations focus on a pod-like vehicle without a steering wheel, similar to concepts like the Volkswagen I.D. Buzz or the Mercedes-Benz F 015. Tesla could offer a removable steering wheel, similar to one Ford patented earlier this year. But in the case of existing cars, it may prove that early adopters won't feel the full benefits of autonomous driving.
If you liked this article, check out this video of a Tesla Model X that predicts a car accident before it even happens.