'Stranger Things 2' Clip Reveals a Possible Eggo Waffle Replacement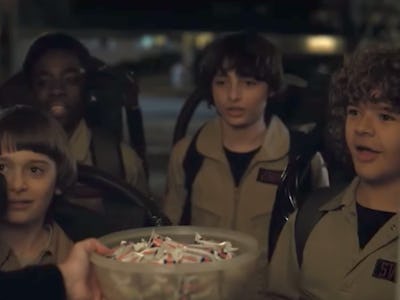 Netflix
The first season of Stranger Things was full of instantly iconic imagery, but Eggo Waffles made enough of an impact that Netflix used a real vintage Eggo ad in the Super Bowl commercial for Season 2. But, a new clip of the sophomore season finds the main four kids debating the merits of another food entirely.
The question: Do Three Musketeers candy bars suck, or not?
The clip, which fans can unlock upon beating the Stranger Things mobile game Netflix released on Wednesday, shows Will, Mike, Dustin, and Lucas trick-or-treating in their Ghostbusters costumes on Halloween. The woman at the door misidentifies them as "janitors," and gives them some candy. Dustin's a fan of Three Musketeers. The others, less so.
The clip ends with a new character, Max (Sadie Sink) jumping out and scaring them in her Michael Myers Halloween mask. Mike actor Finn Wolfhard has said that she'll eventually become "part of the group," so she must grow on you.
Stranger Things Season 2 drops on October 27.
If you liked this article, check out this video of an 8-bit Stranger Things game.