That Was a Real Vintage Eggo Ad in the 'Stranger Things' Trailer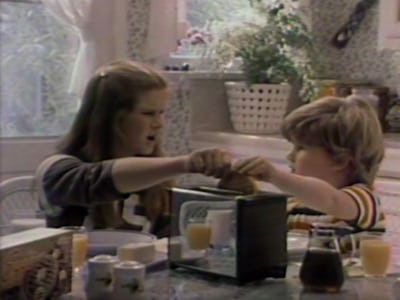 Kellogg's
If you were watching the Super Bowl last night, you probably were momentarily confused about why a grainy, very old-looking commercial for Eggo Waffles ended up in such a high-profile time slot. Then you probably realized it was the hotly anticipated first trailer for the second season of Netflix's Stranger Things. However, that was a real, vintage ad for Eggo, Kellogg's confirmed to Inverse.
"The Eggo ad was real," Eggo's marketing director Trinh Le, explained in an email. "Eggo's presence in Stranger Things was a happy surprise for the brand and it was clear that fans loved it as much as we did. So, we couldn't resist partnering with Netflix in their Super Bowl ad."
The ad in question originally aired in December of 1980 — a few years before Season 2's 1984 setting. According to a YouTuber who uploaded a full, non-Upside Down version of the commercial, it first broadcast during an episode of The Bugs Bunny/Road Runner Show. The spot features a young boy (played by future Wonder Years star Jason Hervey) arguing over a fresh Eggo with his sister.
The boy is able to win the Eggo by himself by tricking his sister into thinking something that's "green and purple and has a million legs" is crawling up her arm. Now, we think the giant monster at the end of the Stranger Things trailer is a giant Demogorgon, but maybe this Eggo ad is hinting at the creature's true nature.
Stranger Things Season 2 drops on Halloween.