"Monopoly Man" Trolls Senate, Spurs DIY Halloween Costume Ideas
With "Get Out of Jail Free" cards and all!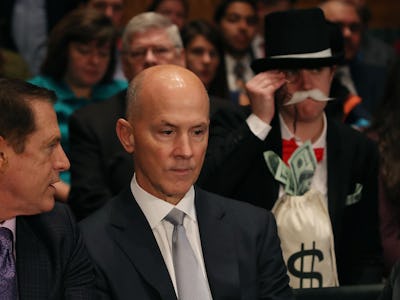 Getty Images / Mark Wilson
While Senate Banking Committee hearings can be stodgy affairs, they are no means grounds for a top hat and tux. Which is why the dapper character stood out in Wednesday's testimony with former Equifax CEO, Richard Smith. Well, that and the monocle and bright white mustache.
The now-viral footage features the iconic mascot from the Monopoly board game lurking behind Smith as he gave his testimony. "Monopoly Man" played by Amanda Werner, the campaign manager of Americans for Financial Reform and Public Citizen, was there to protest the Equifax data breach that compromised the personal information of 143 million Americans and more specifically, resulted in forced arbitration clauses, which according to Werner functions essentially as "Get Out of Jail Free" cards for large banks.
Werner's groups, part of an alliance known as the Coalition for Sensible Safeguard, have a summary of their position on their website: "Forced arbitration clauses buried in the fine print of take-it-or-leave-it contracts may be the single most important tool that predatory banks, payday lenders, credit card companies and other financial institutions have used to escape accountability for cheating and defrauding consumers."
In short, the group is protesting on behalf of people who aren't multi-million dollar entities. The day before Smith's Wednesday testimony, the retired executive claimed "full responsibility" while also blaming the whole thing on a nameless "individual."
With this going down in the month of October, it means one thing: topical Halloween costume inspiration. The Mr. Monopoly costume says you're politically driven and internet-savvy and it's not a difficult costume to pull off, either. Here's all you'll need:
A cheap tux. Cobble something together from your closet, or just ask someone. Thrift stores are also an option.
A top hat. Again, thrift stores, or just a local Halloween shop.
Cheap red bowtie. Nothing too fancy — the costume will do that for you.
Black, grey, or white suit pants. The character has been officially portrayed wearing slacks of all three colors at different times.
A wooden cane. You'd think a rich asshole with the name "Pennybags" would have like, some polished rare animal bone or whatever, but a classic wood cane is what he carries. Go figure.
Monocle: OPTIONAL. Werner used theirs to amazing comedic affect, but Pennybags actually doesn't wear a monocle.
Fake $100 bills. Oddly enough, you see these in dollar stores.
And to top it off, print out "Get Out of Jail Free" cards and hand them out at the party. If you're feeling especially into it, print out the ones Werner handed out outside the hearing. Perhaps you'll help change minds during the spookiest night of the year.